In September 2022, after watching many YouTube videos of other people on long-distance Amtrak trips, I finally embarked on a journey of my own: I took the Amtrak Southwest Chief train from Chicago to Los Angeles. Continue reading to learn more about it and why I'll do it again on another route.
"Why would you want to do this?"
This is a question I got a lot. When I told friends that I booked a ticket to be on a train for over 40 hours, many didn't understand why anyone would want to do this when you can fly for cheaper and in so much less time, enjoying comforts like in-flight entertainment, drinks, snacks, and the airport lounges.
The idea behind such a trip was to experience the country differently. I moved to the United States from Germany only 7 years ago and have flown all over it so many times, but never seen much of it up close. I can give you directions to a good bar or restaurant in dozens of cities, but I have never seen Arizona. I can navigate 20 airports blindly but never saw a sunrise in Kansas. Taking a train slows you down and gets you 34,000 feet closer to life on earth.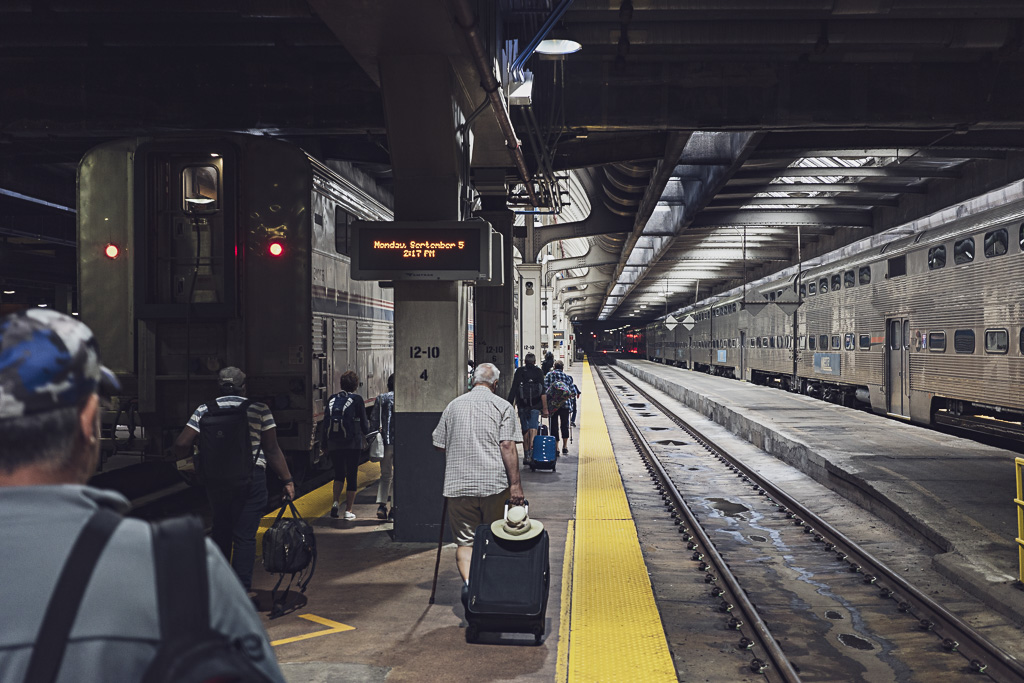 Treating the Trip Like a Cruise
I had no reason to be in Chicago or Los Angeles. In fact, I flew to Chicago only to take the train, and from Los Angeles, I flew straight back home. Yes, it will take so much longer to get to your destination, but in this case, the journey is the goal.
Not only can you experience much more of the country, but you are also almost forced to do nothing. On many other trips, I pack my schedule full of things I want to do. It is easy to be stressed about the feeling of missing out on something and being so busy that you don't get to relax very much. On a train trip? Not so much. You can do nothing except eat, drink, listen to music, and watch the scenery pass by. Internet access is unreliable, and you can't do much with your phone. It's you and all the other people on the train with no schedule except the stops on the journey. More on this later, but I found this trip to be extraordinarily relaxing and recharging.
On top of all that, you will meet people. Everyone has nothing to do, and if you want to talk, you'll find someone else who also wants to talk. I've had fantastic conversations that stuck with me, and I made a new friend.
Most importantly, I am constantly searching for silence. An Amtrak Superliner pulled by 4,000 hp diesel locomotives, rumbling over New Mexico standard gauge railway tracks, is not silent. But you cannot achieve real silence ever. If you are not meditating, there will be your inner monologue; even if every sound is drowned out, you'll start hearing your own heartbeat.
For me, silence is the absence of noise. Noise is having to do something else than just being. Noise is the chores of the day. Phone notifications are noise. On a train, in the middle of nowhere, with no mobile reception and a cold beer in my hand, and nothing to do but watch the mountains pass by, I am experiencing silence.
Picking a Train
For many, Amtrak is an operator of commuter trains. Readers on the eastern seaboard will likely have experience with Amtrak as an easy way for short to medium-distance trips between the significant population centers. Those commuter trains are similar to most trains I'm used to from when I grew up in Europe: Somewhat comfortable but designed to move people around for only a few hours. You might get a snack, but meals are not a priority or available at all. You can enjoy the scenery from your window like on any other train, and there are no sleeper cars.
The long-distance fleet of Amtrak is designed to move you across the entire country. While many people travel long distances on a simple chair in Economy class, you can also book different types of rooms in sleeper cars. An observation car with huge windows and outward-facing seats is available for sleeper car passengers, and meals are made to order in an onboard kitchen.
Every long-distance route is served by trains with specific names. For example, the train taking you from Chicago to San Francisco or the other direction is called the "California Zephyr." I was interested in three routes:
All those trains had an enticing distance, each en route for at least 40 hours.
I decided to take the Southwest Chief for my first-ever Amtrak long-distance trip. The reason for me was simple: The California Zephyr route takes you through the Rocky Mountains, and I wanted to take it in the winter. Also, I wanted to take a slightly less famous or beautiful route to get some experience first. The Empire Builder route was another option, but I felt like that particular route would be more beautiful in the winter, too.
The Chicago to Los Angeles route is served by two trains: The Southwest Chief and the Texas Eagle. The Southwest Chief takes you south of the Rocky Mountains through Kansas, Colorado, New Mexico, and Arizona. If you take the Texas Eagle, you will go south to Texas and west to California – A significantly longer route and the longest scheduled travel on Amtrak.
I went with the Southwest Chief because it seemed to be a good combination of long but not-too-long travel time on a beautiful but not the most famous route. I was setting myself up to take another trip on the California Zephyr with more experience at another time.
Planning the Trip
Now that I knew which train I wanted to take, I could start planning the trip and buying tickets.
Amtrak makes it very easy to buy train tickets using their website, and it's very similar to buying a plane ticket. I could not find a pattern of pricing differences, so I simply picked a ticket for a week that worked well with my work schedule: Departure from Chicago on Labor Day. Prices did not seem to be very different.
Flying from my hometown of Houston to Chicago is easy; both cities are United hubs. I booked a one-way ticket to Chicago and a one-way ticket back home from Los Angeles.
You can get a bedroom or roomette on an Amtrak sleeper car. A roomette fits two people, with the second person having to sleep on a bunk bed contraption under the room's ceiling. I was going alone on this trip, and a roomette seemed to be the best choice.
The ticket cost me around $1,200. I could have bought an economy ticket for $150, but sitting for so long was out of the question. If I treat this as a cruise, I want a good level of comfort. Also, economy does not include meals in the dining car and gets you no access to the observation car. With two flights and the hotel room for a night, I ended up spending a little over $2,000. Not cheap. At least the food and some drinks on the train will be included in the price.
Long-distance Amtrak trains are known to often accumulate enormous delays. Amtrak does not own pretty much any rail lines (the physical tracks on the ground) outside of the Northeast USA, and freight trains have priority. You can easily be 10 hours late at your destination. If you treat the trip like a cruise, like I did, you might treat this as a positive thing. It will, however, complicate your flight schedule. I decided to play it somewhat safe and book my flight back for 12 hours after the scheduled train arrival in Los Angeles. Worst case, I could have always rebooked.
During booking, I could not pick a room or car. I ended up in a room in the center section of the upper floor and heard that those are better because you are further away from the vibrations and sounds of the wheels and track. On this route, I didn't care much about which side of the train I was on because the scenery is very similar, no matter which way you look. This is more important if you take a train along the coastline, for example, the Coast Starlight from Los Angeles to Seattle. I have no idea if you could call Amtrak and get another room if you ask nicely. Still, I believe there is a chance depending on availability.
The departure timing is the other side of the trip you want to play safe. A delayed flight should not jeopardize making it in time for the train; this is supposed to be relaxing, and I hate travel stress. That's why I decided to fly into Chicago the day before the train departure and spend a night there.
Packing
It was clear to me that I wanted to travel with a single backpack. Hauling a second bag or carry-on through the airports and train stations did not seem like a great plan. Also, the somewhat uncertain exact time of return from Los Angeles called for maximum flexibility. On top of that, it was only a three-day trip, and packing a single bag was absolutely possible.
One complication was that I also wanted to pack some camera gear, but my tiny Ricoh GRIIIx, Sony a6400, and few lenses don't take up much space.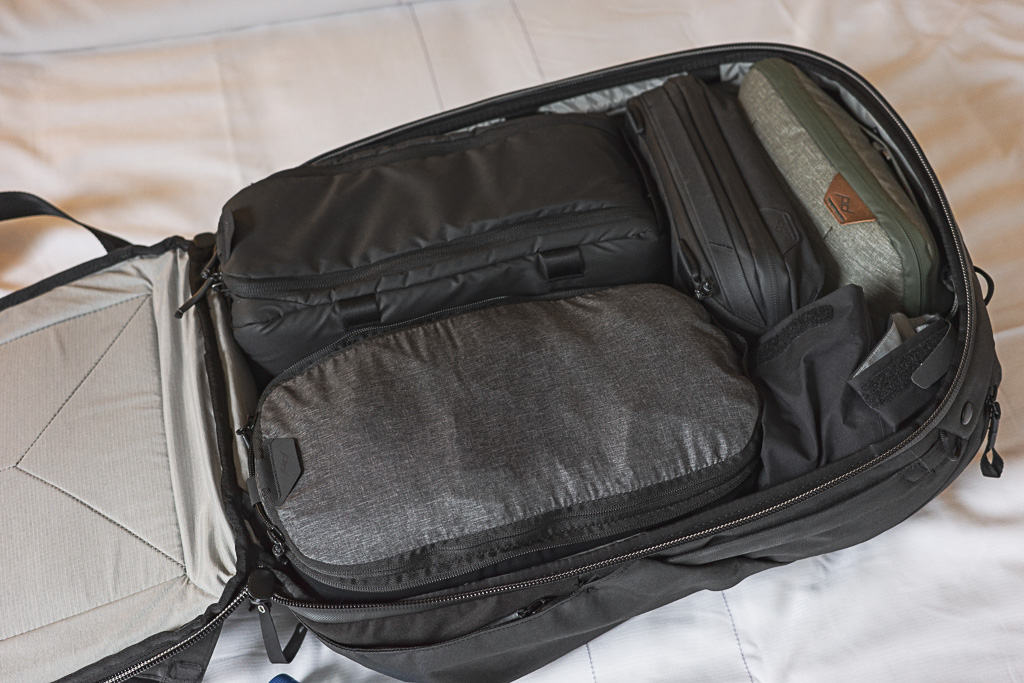 I chose my favorite backpack for short, single-bag trips: the Peak Design 45L Travel Backpack. It's large, but carry-on approved for the flights. The small camera packing cube was enough for the photo and video gear, leaving me with enough space to comfortably pack clothes and other utensils.
Everything else was just like packing for a regular short trip. Toothbrush, deodorant, cables, chargers, Kindle, iPad, and so on. The Amtrak sleeper car rooms have USB charging ports and reliable power outlets. I recommend packing 6-10 foot charging cables because the outlets are only on one side of the room, and it might not be the closest to you, depending in which direction you'd like to sleep.
Your room will have a dial to control the temperature, but the hallway of the sleeper car was extremely cold on my trip. I recommend you bring a hoodie or something for when you want to leave the door open.
You won't need anything special for "life" on the train. You will have breakfast, lunch, and dinner included and can always get small meals, snacks, drinks, and even alcohol in the little store on the lower level of the observation car. You can pay with a credit card and even Apple Pay there. I recommend bringing cash to tip the dining car staff and your sleeper car attendant. More on that later.
In Chicago
I had been at the Chicago O'Hare airport many times before but never in Chicago itself. I was happy to learn that Chicago has a decent public transit system. You can quickly get from O'Hare to downtown using the blue line train. The trip takes about 45 minutes and is not very scenic, but effective.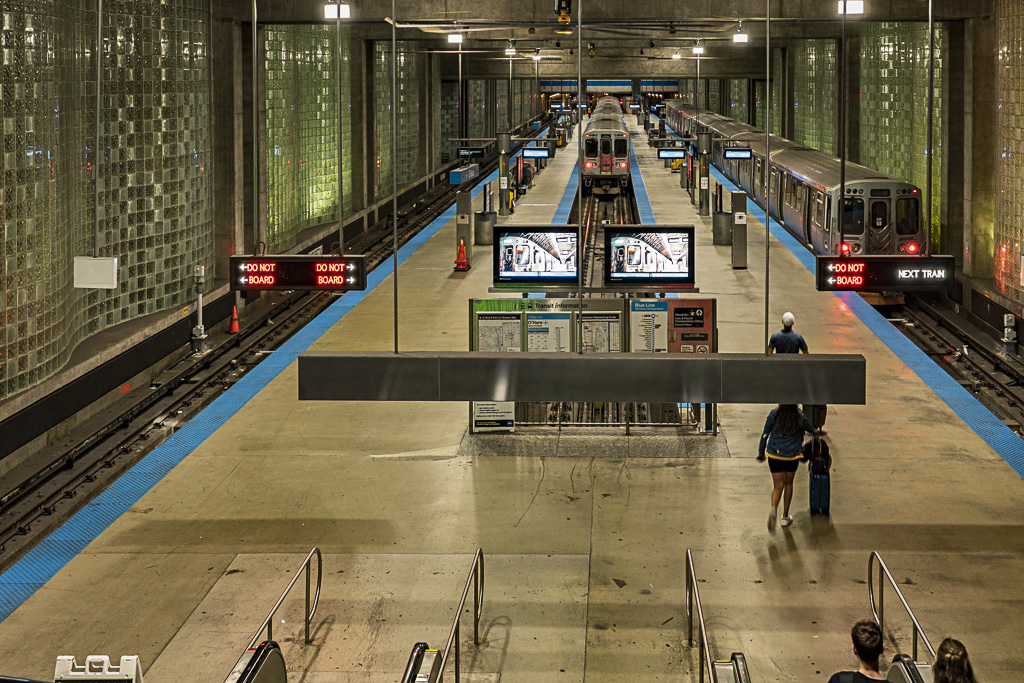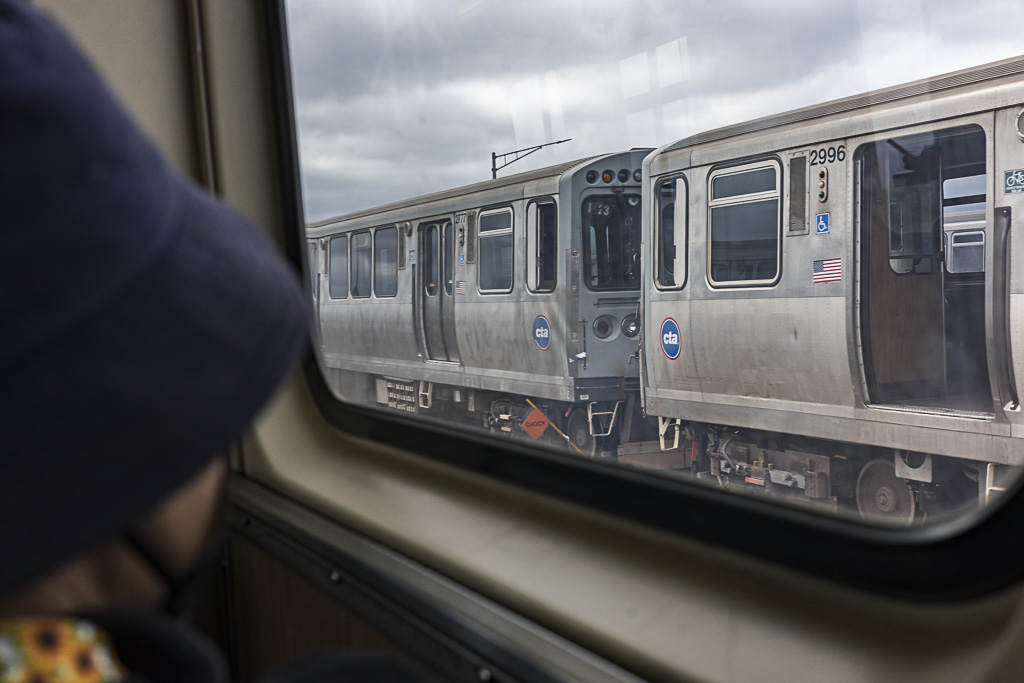 My train left in the early afternoon on Monday, so I had a lot of time to explore the city on Sunday night. My friend Kyle recommended the Centennial Bar on La Salle St for dinner and beers. It turned out he quickly texted the owner, letting him know that I was coming. It's a short walk from downtown, and the food, beer, and conversations were fantastic. 10/10. Thanks, Kyle!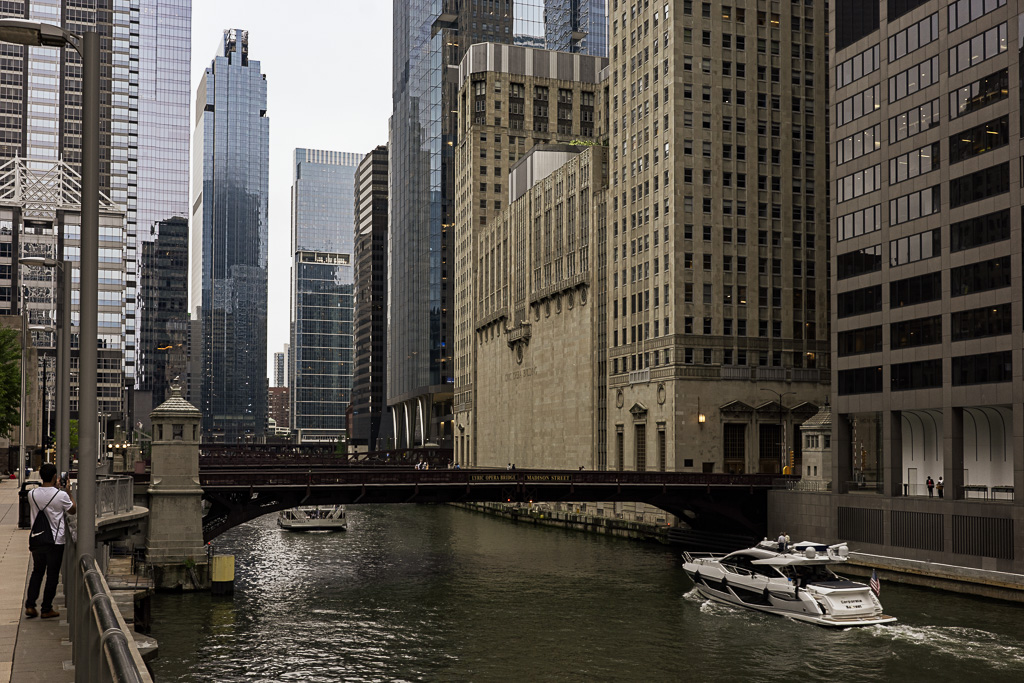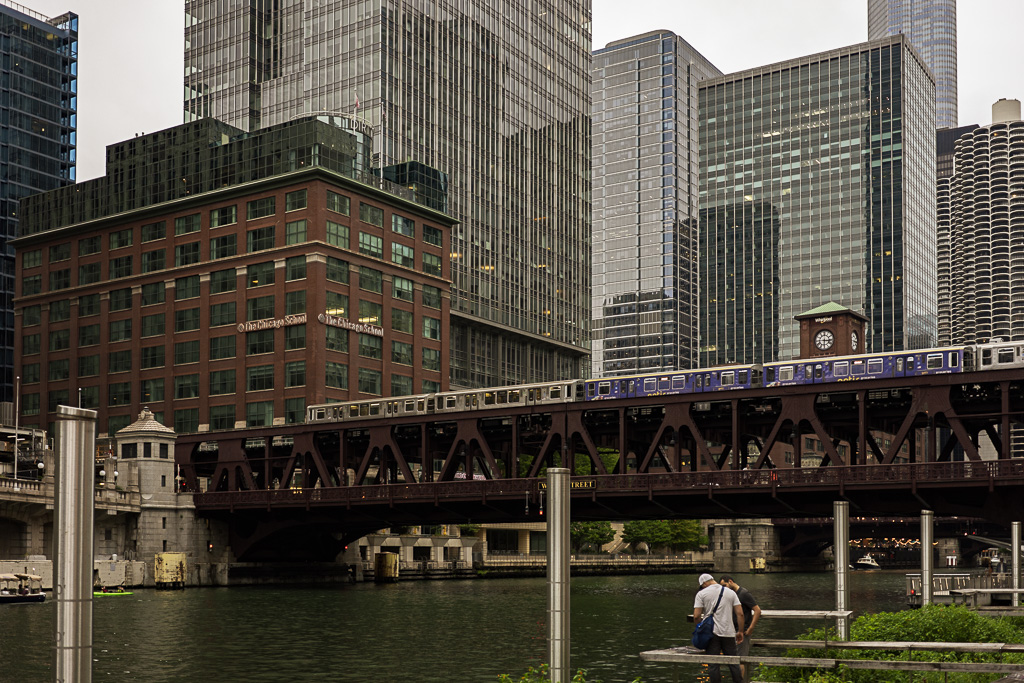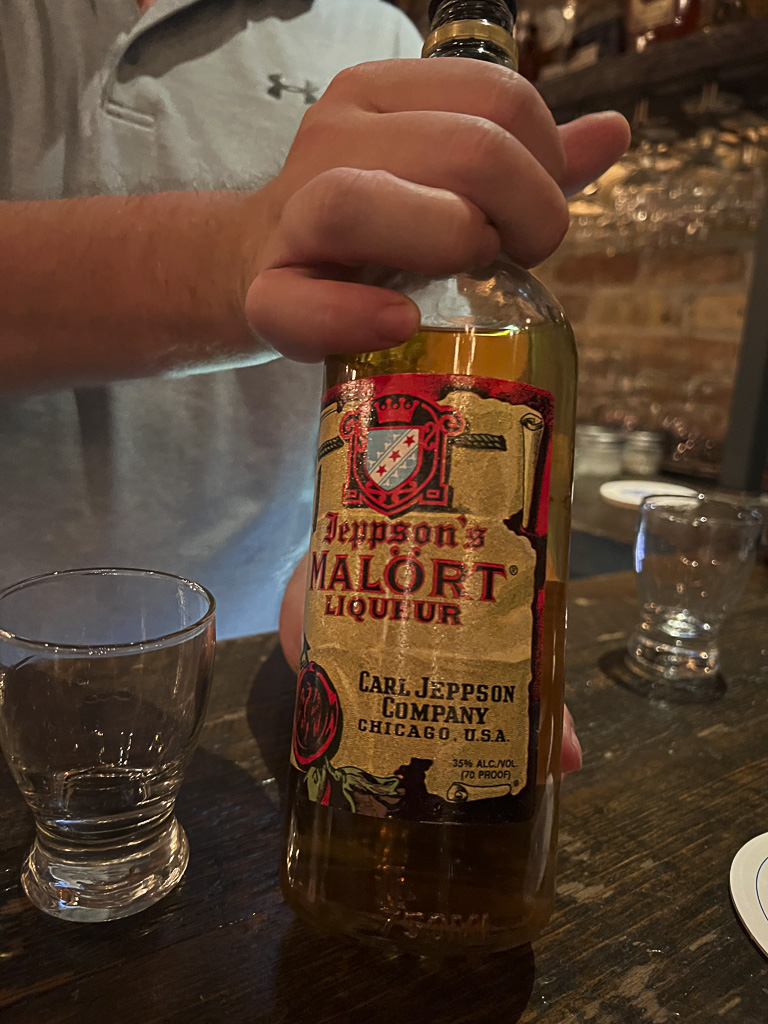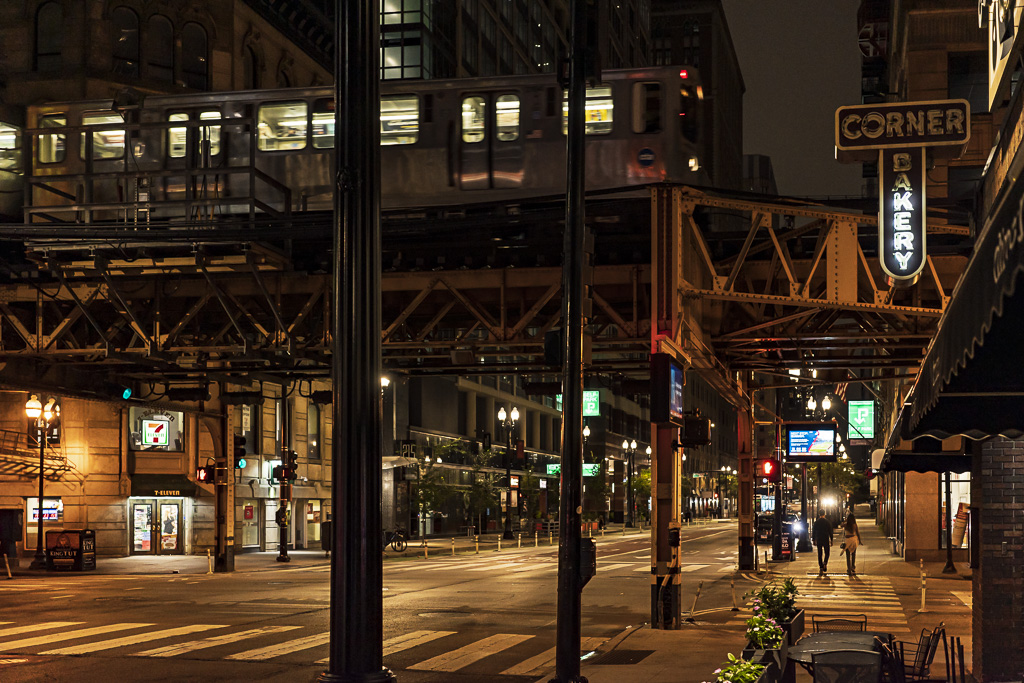 I checked out from my hotel the following day and walked to the Chicago Union Station. Amtrak owns and operates it; it serves as a long-distance train terminal and handles several commuter lines. It opened in 1925, replacing an older station built in 1881. Today, it handles about 140,000 passengers on an average day and is the busiest Amtrak station outside of the Northeast corridor.
At the Train Station
I had never taken an Amtrak before and planned two hours of a buffer. I used that time to familiarize myself with the station and where to find the trains. The trains leave from a separate building, but access is easy, and many signs point you in the right direction.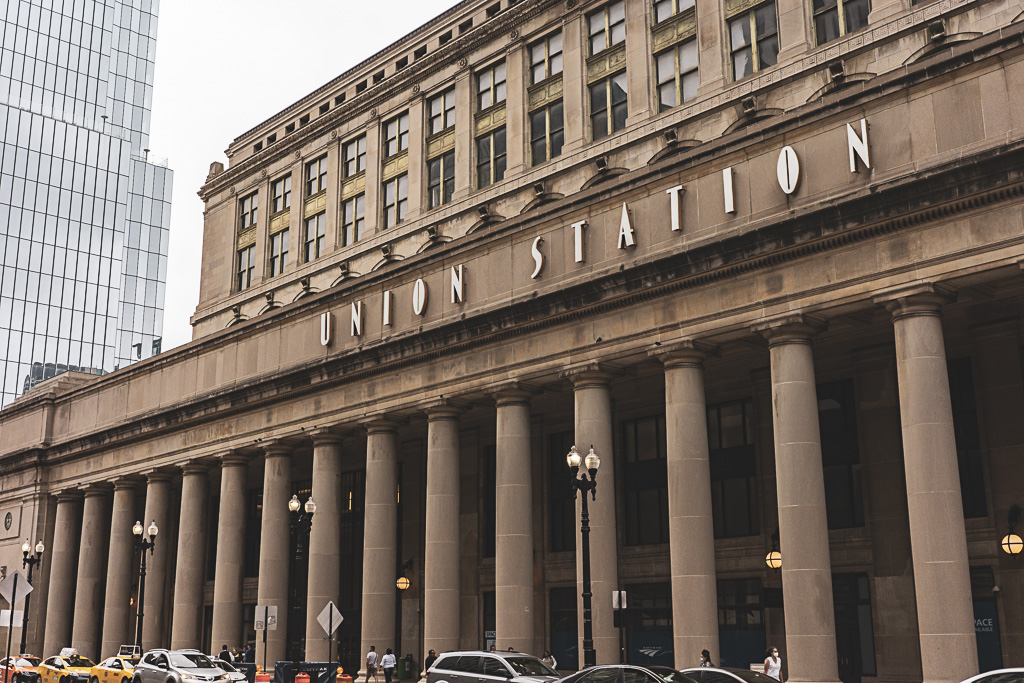 I immediately noticed a lot of Amish people sitting in the large hall. This is because travel by plane is considered too modern and travel by train appears to be very popular amongst them. Something to read more about.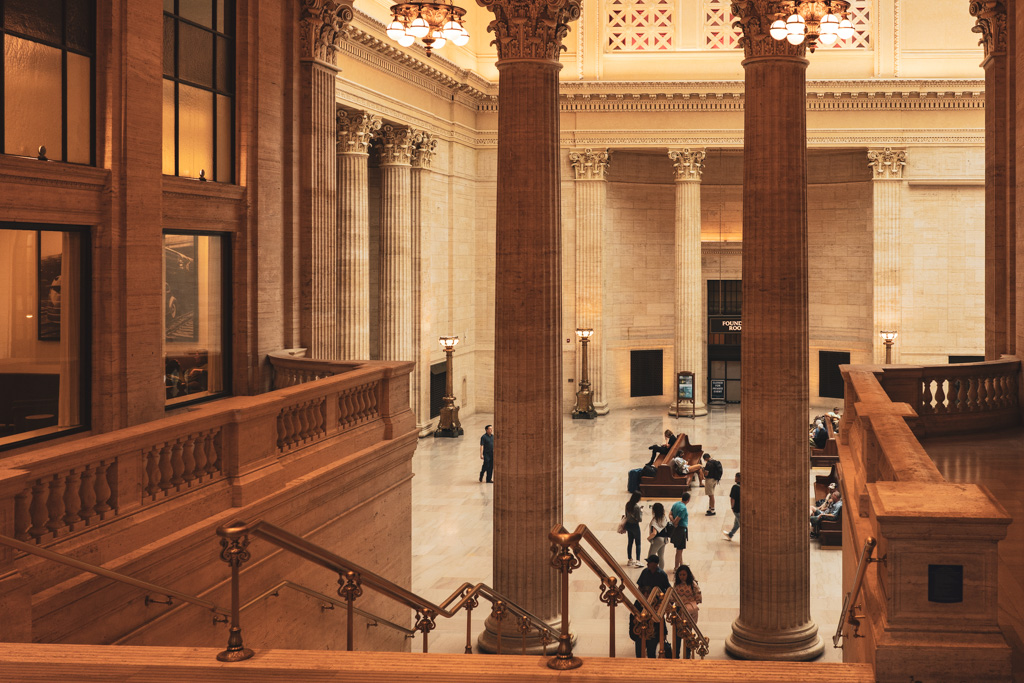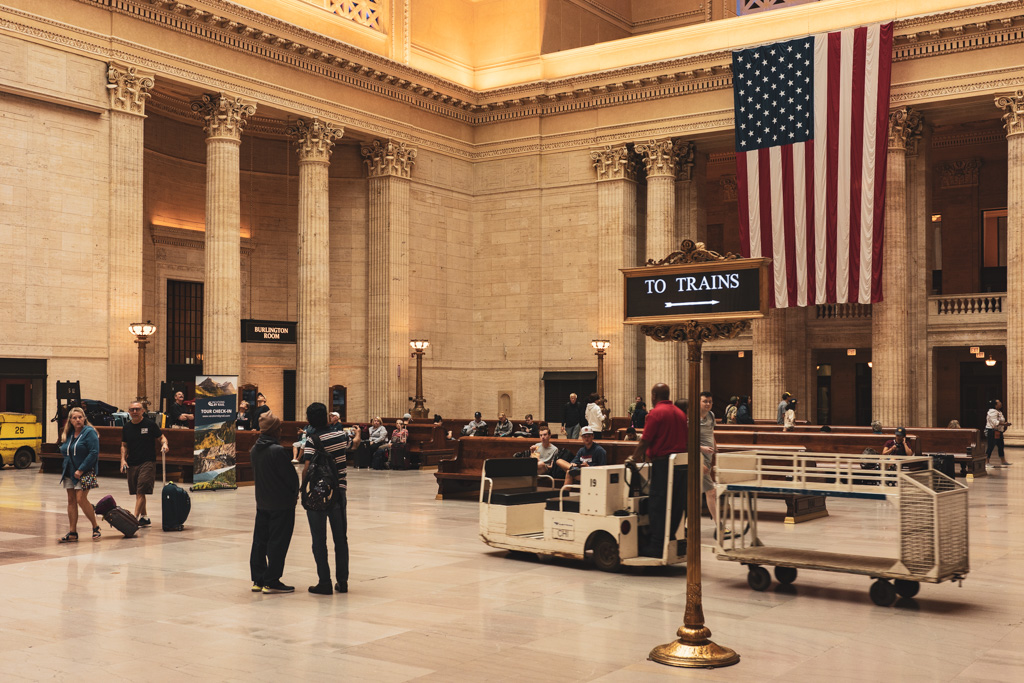 As an experienced and frequent flyer, I headed to the Amtrak lounge after feeling familiar enough with the station. The lounge was quiet, clean, and comparable to a US domestic airline lounge, with snacks, a little bar with wine (out of plastic cups), beer, and plenty of space to sit. You can access the lounge if you have a certain member level or a same-day first-class or sleeper car ticket.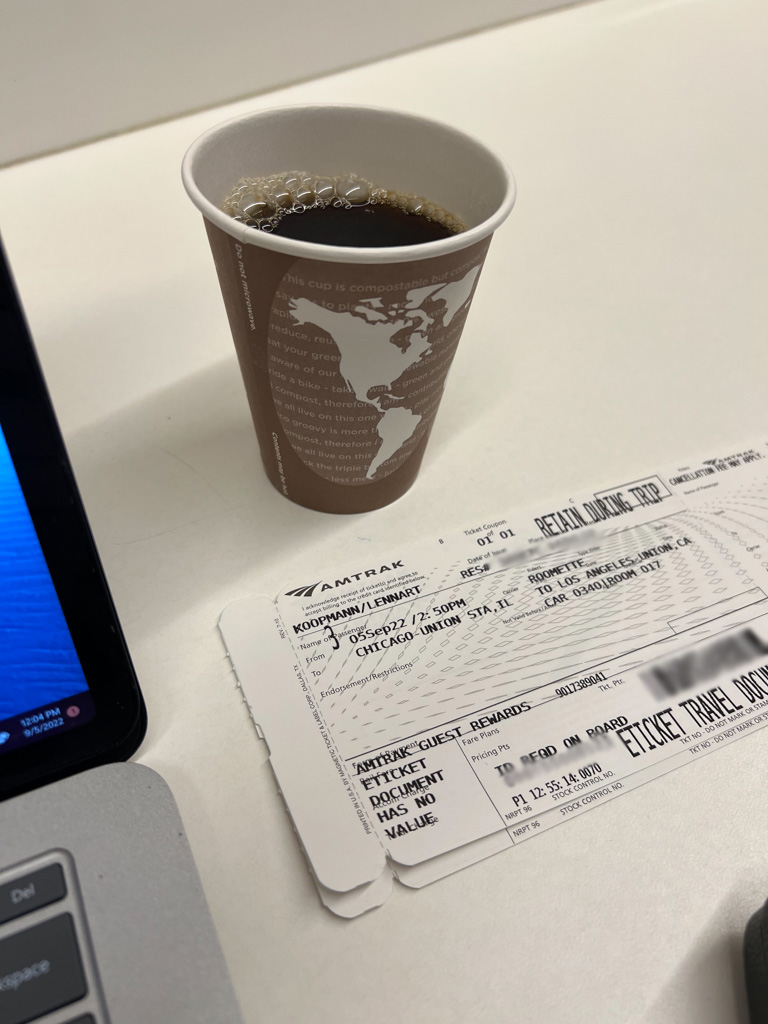 I spent about an hour in the lounge, waiting for my train to board. The staff at the lounge will print out a physical paper boarding pass if you prefer that over the mobile app. (I believe you don't have to have a printed boarding pass.)
Boarding
I can only describe the boarding process I experienced from within the lounge. I was ready to head to the tracks a few minutes before boarding time, just like you would at an airport. While sitting at the lounge and enjoying a very average red wine, I heard announcements for passengers of other long-distance trains (I believe the California Zephyr and the Capitol Limited) asking to meet at the front desk for boarding. It turns out that all passengers with lounge access can board their trains directly from the lounge: An Amtrak attendant will guide the group through the train station and straight to the train. This pleasant surprise made the whole thing feel like a class trip.
If you are not in the lounge, you can just walk to the platform when it's time to board.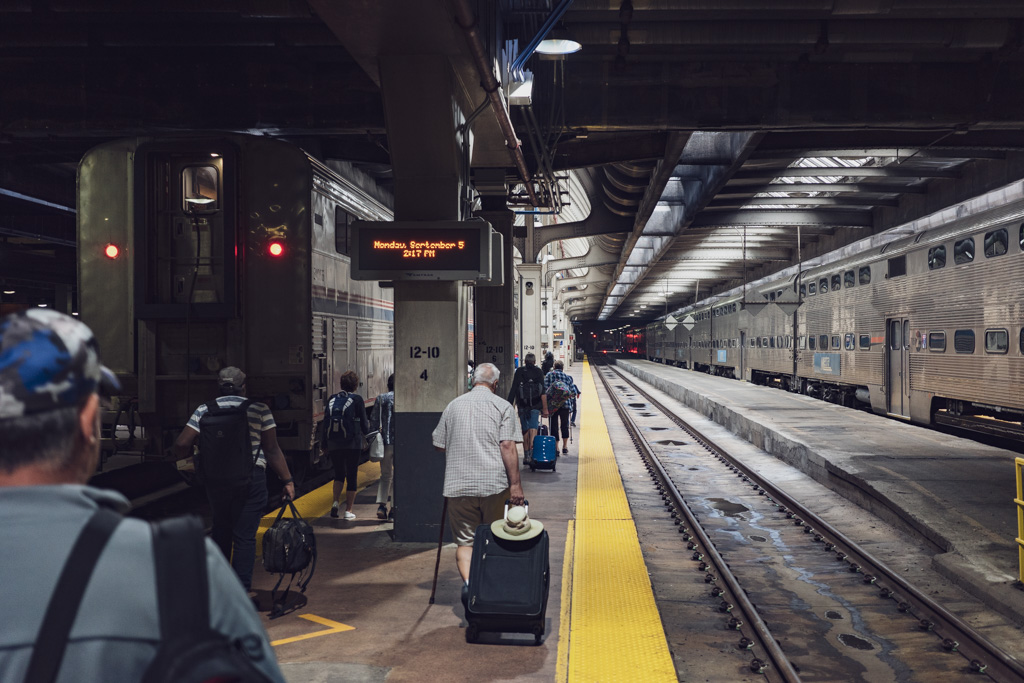 A conductor checks your ticket at the train, directs you to your car, and tells you if your room is upstairs or downstairs.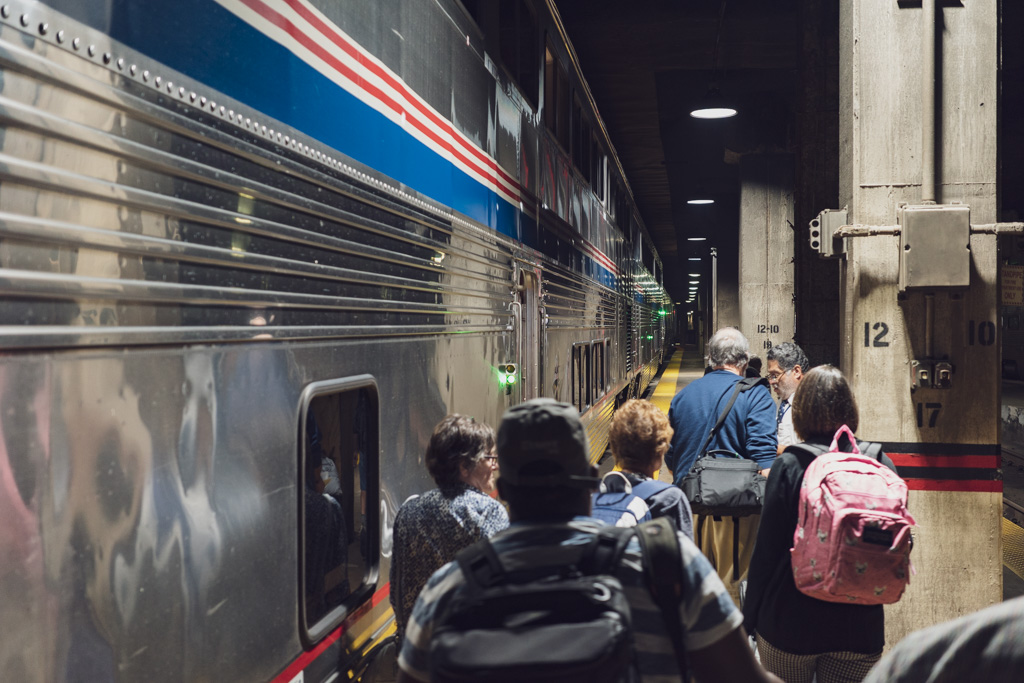 Settling in on the Train
I boarded the train and headed upstairs through a small staircase to find my roomette. The room had about the size I expected and was very clean and fresh.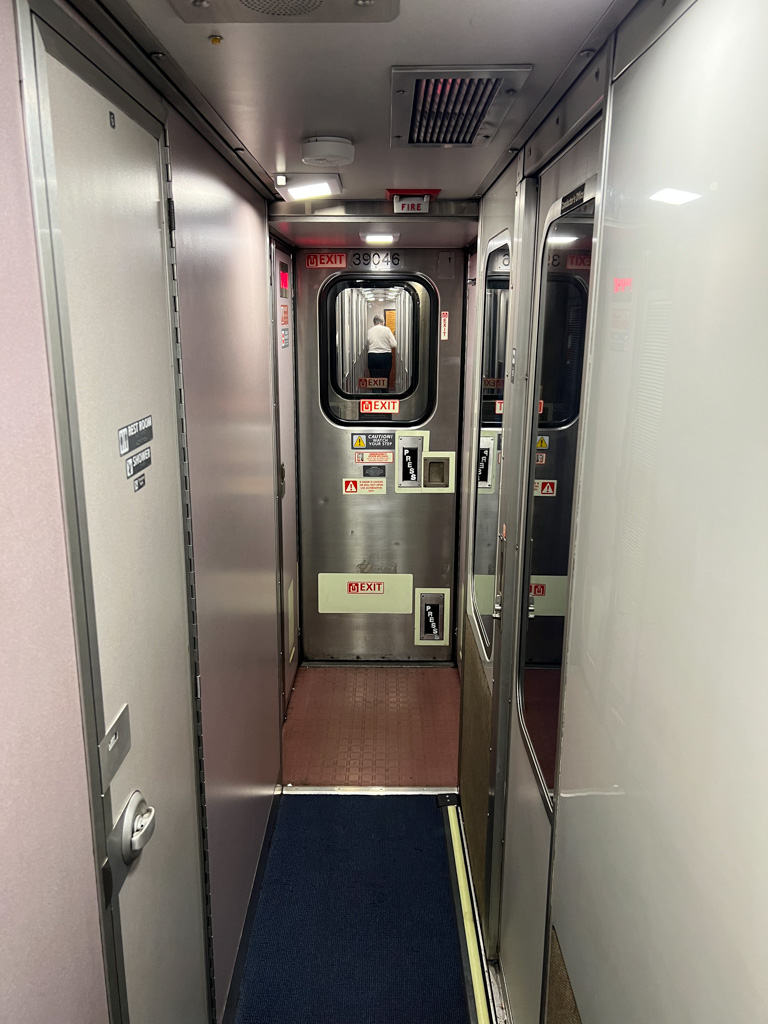 After spending a few minutes exploring the room, I was greeted by the car attendant Tony. She quickly ensured everyone felt at home and explained how things worked on the train and in the room.
A roomette has a bunk bed layout with two seats connecting into a bed and another bed under the ceiling. I was traveling alone and did not need the top bed, which also had no window view.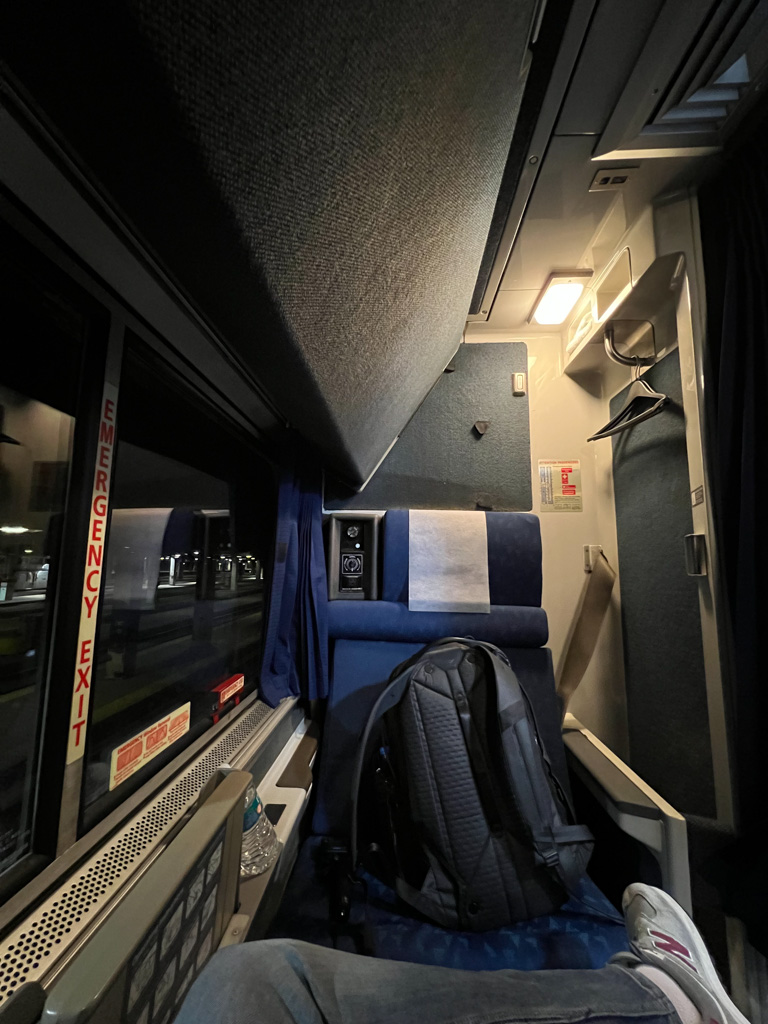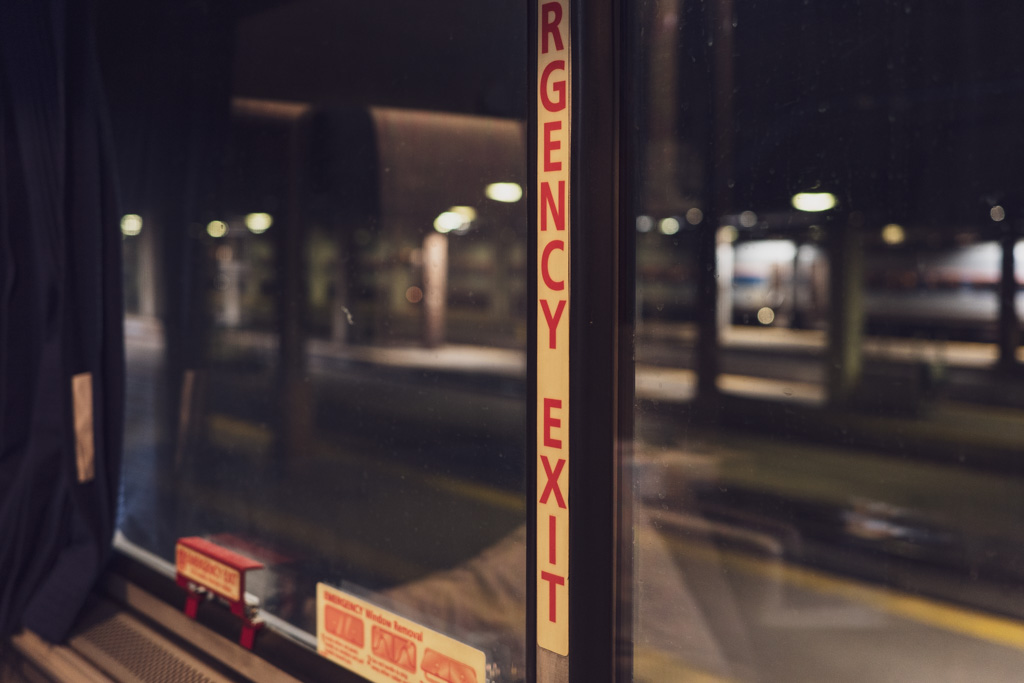 Tony explained that I could reserve a time for breakfast, lunch, and dinner in the restaurant car. They do this because the car can't hold all eligible passengers at once. She took my reservation for dinner and the next day's breakfast.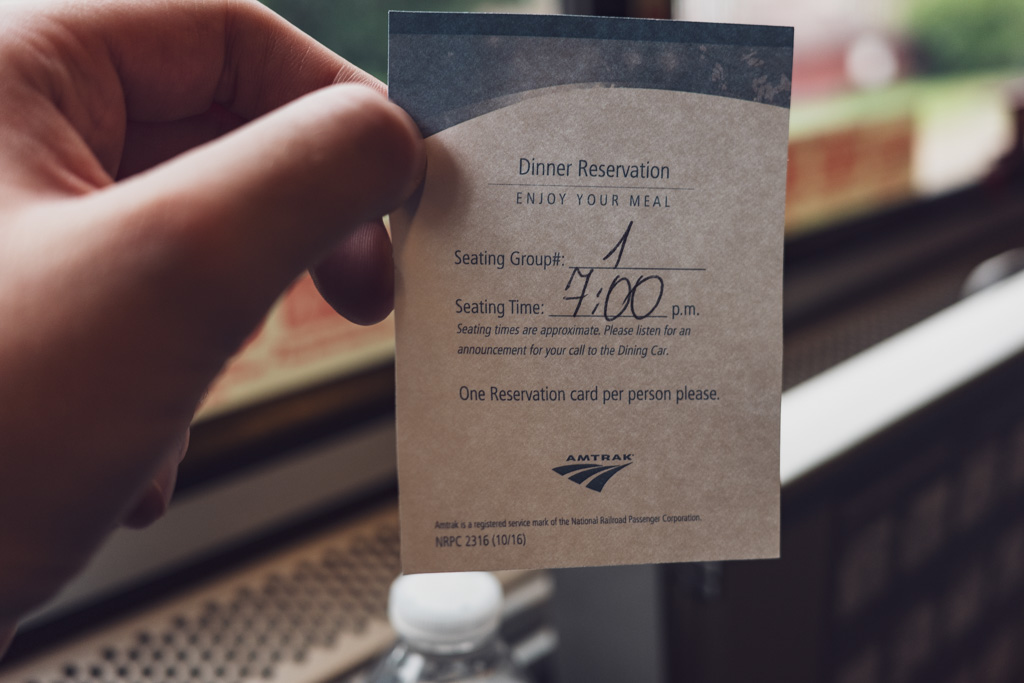 I spent the few hours until dinner in my room, watching parts of Illinois and Iowa pass by.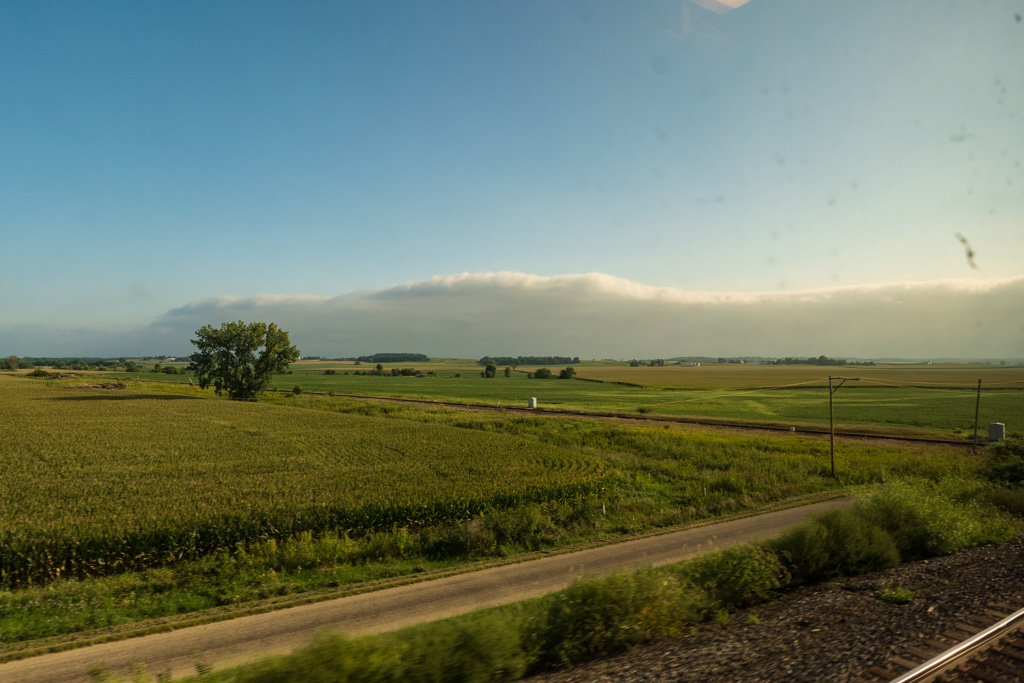 The Southwest Chief has 31 stops on the 2,265-mile-long journey. You can get out for some fresh air at every stop, but there will be an announcement to let you know how long you can expect to have. Some stops are just a few minutes long, and some are long enough to explore the area around the train station if you are brave enough to risk getting lost or losing track of time. In case of delays, you could be at a station for hours. The train staff set expectations very clearly and communicated frequently.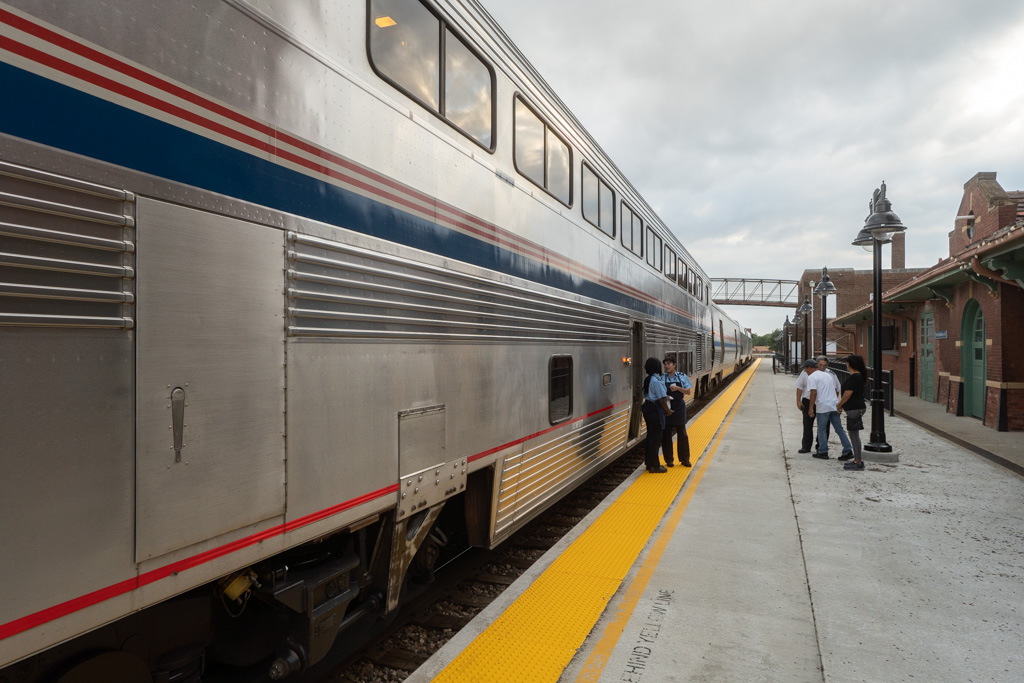 The First Dinner
I had a 7pm reservation and walked over to the car right in front of mine, the restaurant car. Because space is limited, you will sit with other passengers at tables holding 4 people. This is something I personally enjoy, but you should consider this if you are a little more introverted.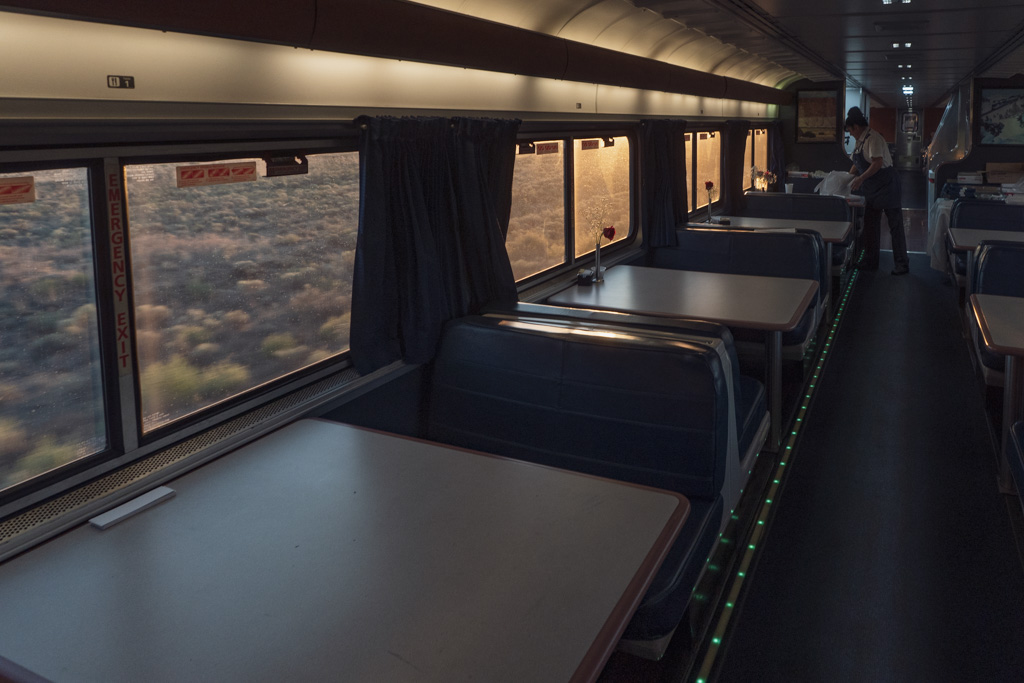 I sat with a British couple that night and had a great conversation. Those random collisions in the middle of nowhere are a great part of this slow form of travel.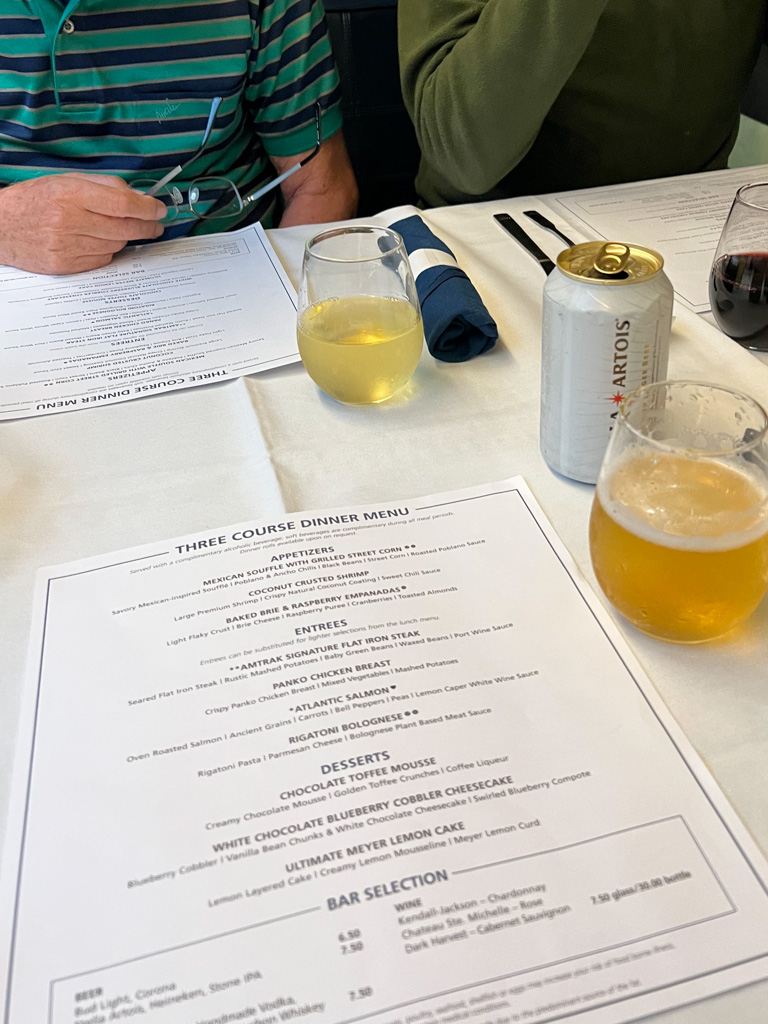 An Amtrak Superliner has a full kitchen on the lower deck of the restaurant car. This is why the food is surprisingly delicious. I heard the steak was good and picked it for my dinner. It was cooked to order and tasted great. I had not expected such good food on the train.
You get one alcoholic drink with each meal but can always order more-Which I did.
Tips are appreciated, and, just as with any other service job, if you tip well, you might end up with a lot of free wine for you and a friend you made on the way the next day.
After returning from dinner, I discovered that Tony had used the time to convert my room from the "day configuration" to the "night configuration." This means she set up the bed and brought fresh bed linen, pillows, and fresh towels for the shower.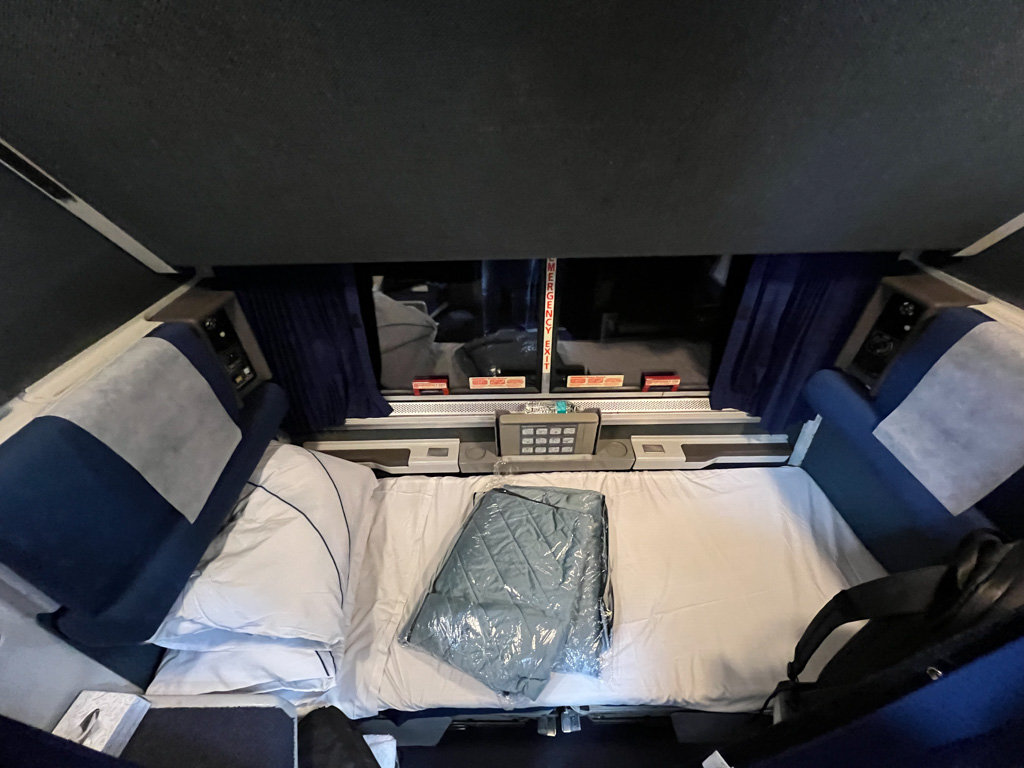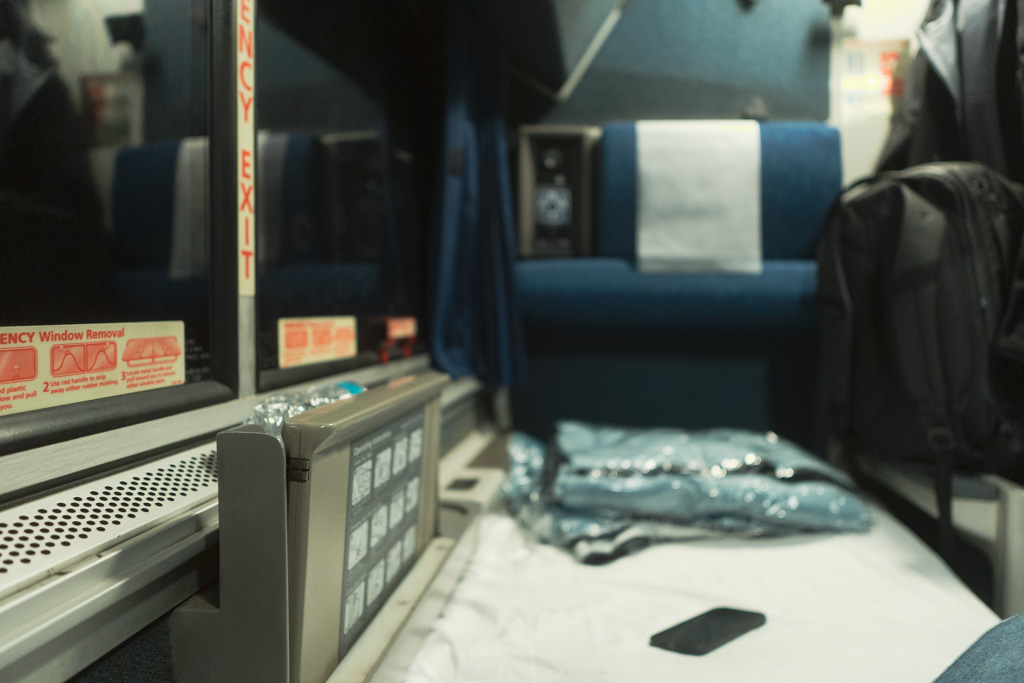 The shower was hot, with good water pressure and plenty of space. I was ready for the first night.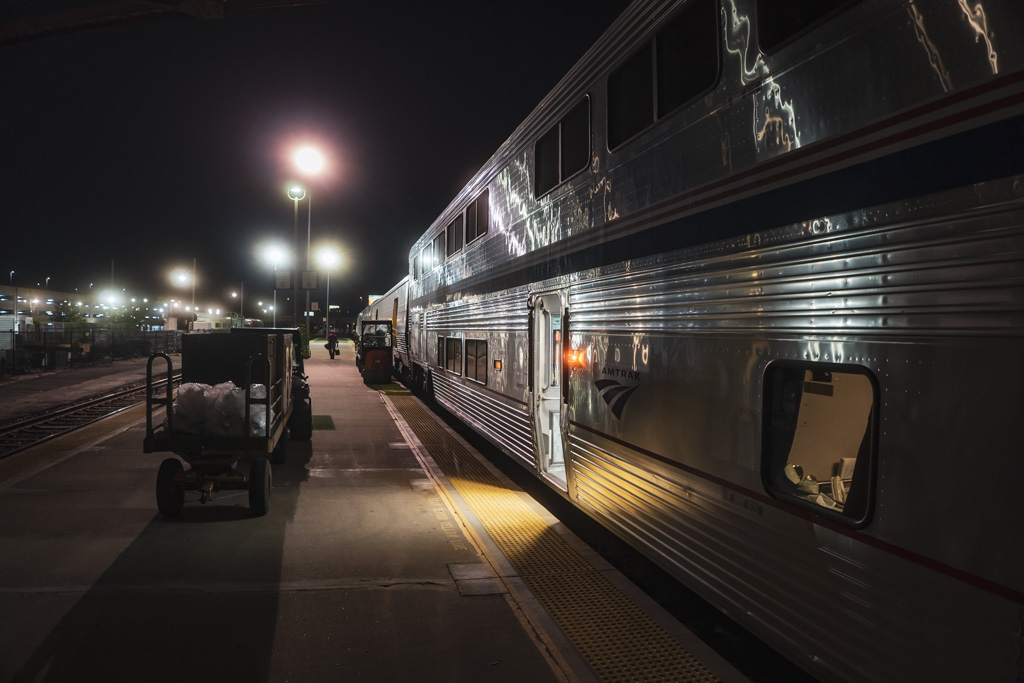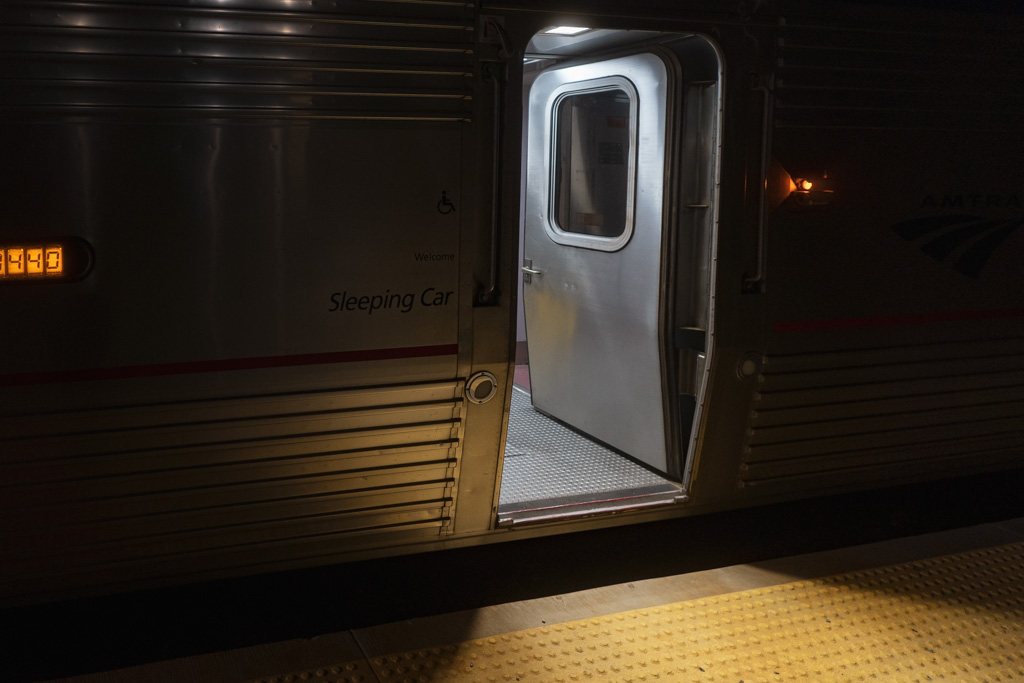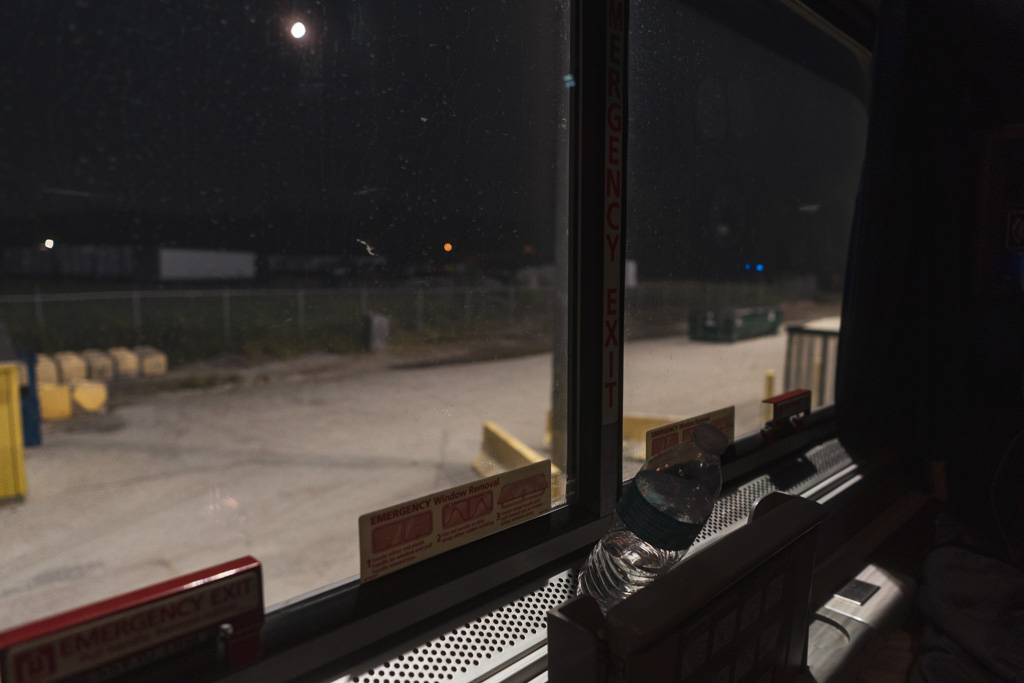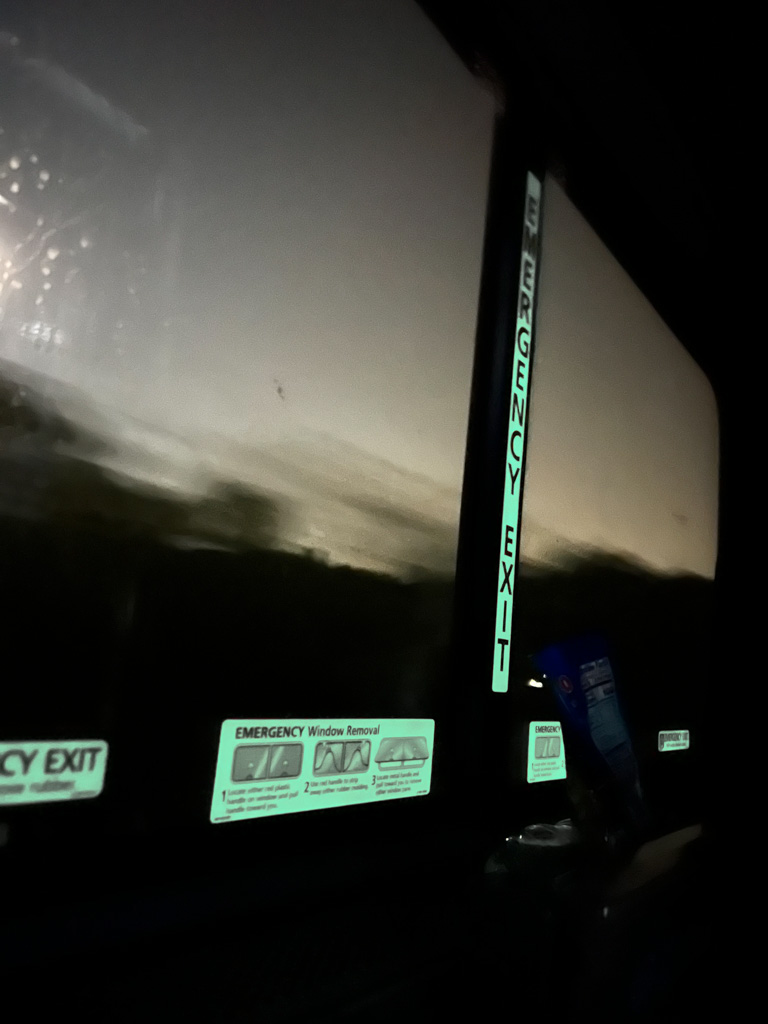 During the Day
I slept well, but please take that with a grain of salt because I can sleep in pretty much any environment. If you can sleep on a international first-class plane seat, you will sleep comfortably in an Amtrak room. The upstairs rooms on a Superliner are further away from the tracks, and my room was in the middle of the car, at the most distance away from the wheels. All this reduced noise and vibrations, and I was very much unbothered.
I fell asleep and woke up still in Kansas. It turns out that state is really large if you cross it diagonally.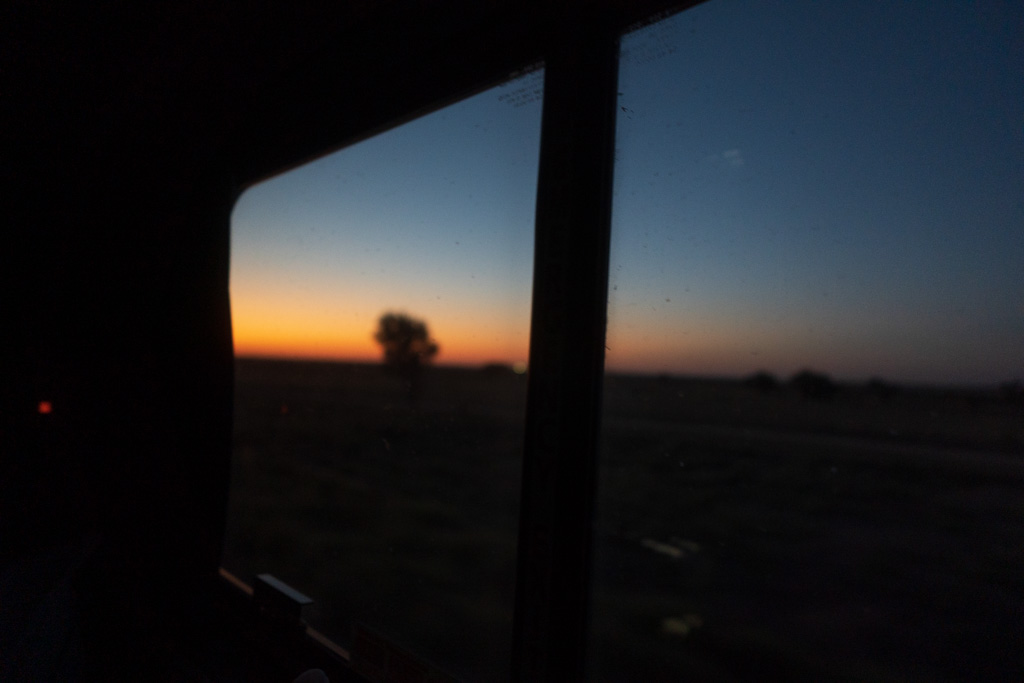 After brushing my teeth, I walked over for breakfast. I sat with a guy from the East Coast, and we had a great conversation. The eggs were fresh, and the fruit was delicious. My new friend and I had a great discussion, so we decided to check out the observation car together.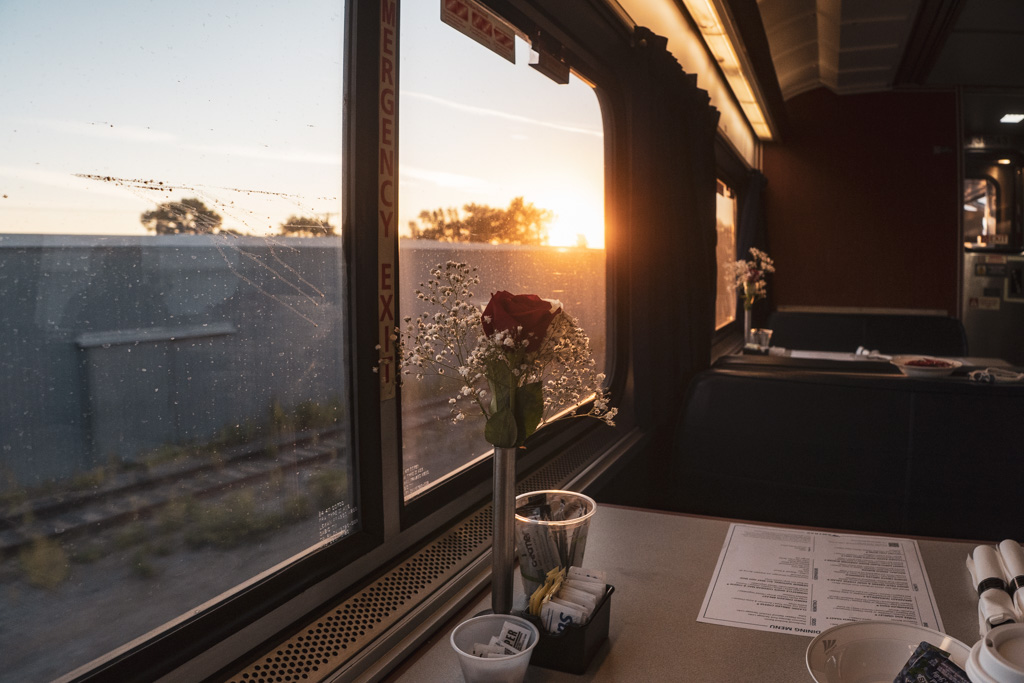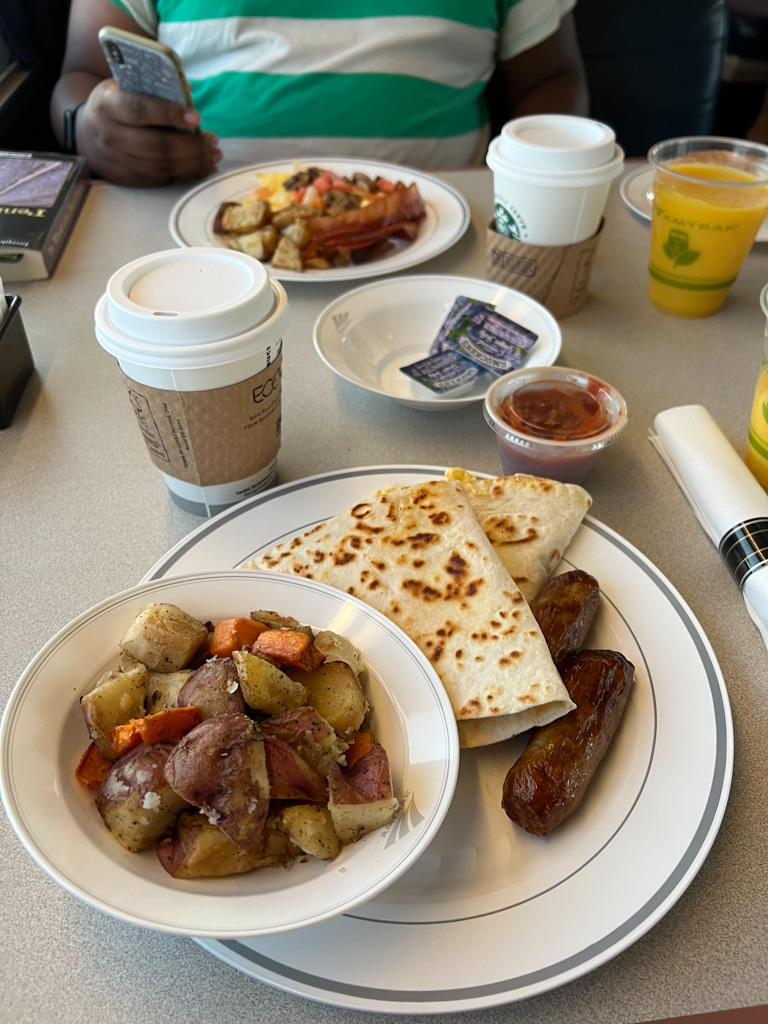 The observation car is located right behind the restaurant car. It can also only be accessed by first-class and sleeping car passengers. (UPDATE 2/3/2023: Readers on Hackernews pointed out that this might not be the case and that everyone has access to the observation car. I might be wrong here. UPDATE 2: Yes, I was definitely wrong. Amtrak says on their website that everyone can access the observation car.) Not only is there a bar with snacks and drinks downstairs (it takes Apple Pay!), but also it has seats facing outside and huge windows. At some stops, workers will even clean the windows from the outside.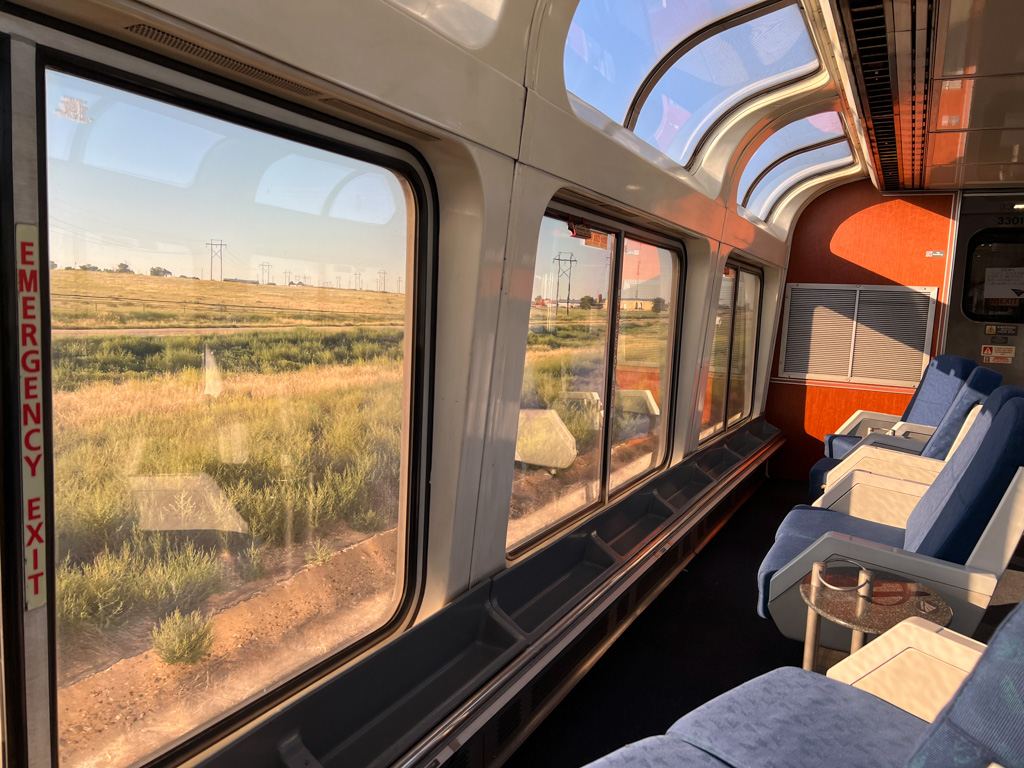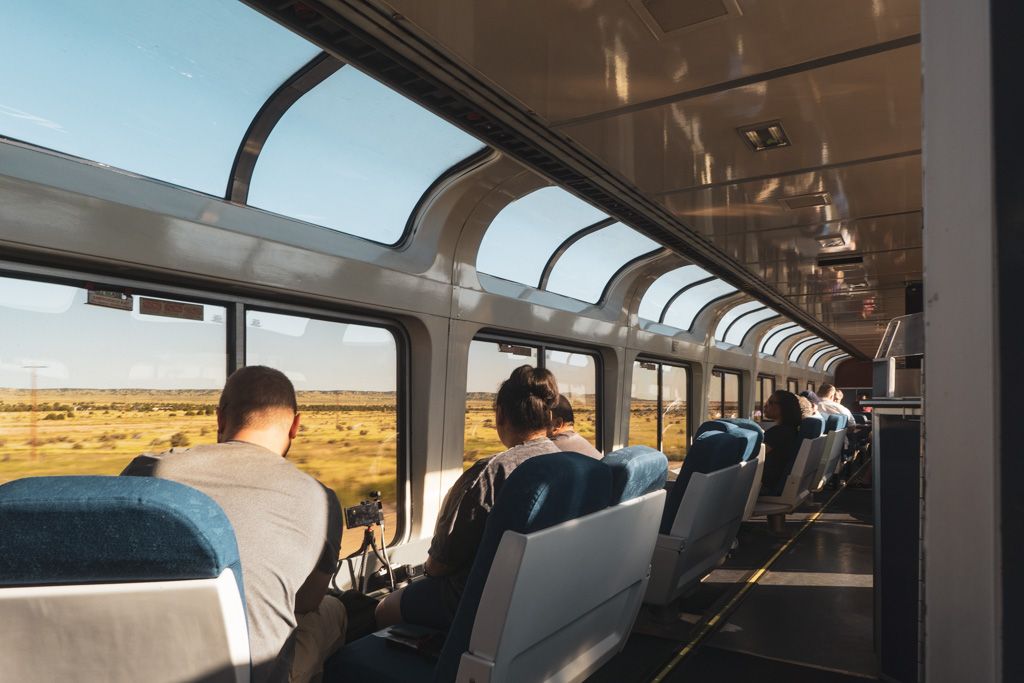 I spent almost the entire day in the observation car, with only a break for lunch, where I met a gentleman who had boarded earlier and was going to California.
The many stops along the route allow for some fresh air and stretching your legs.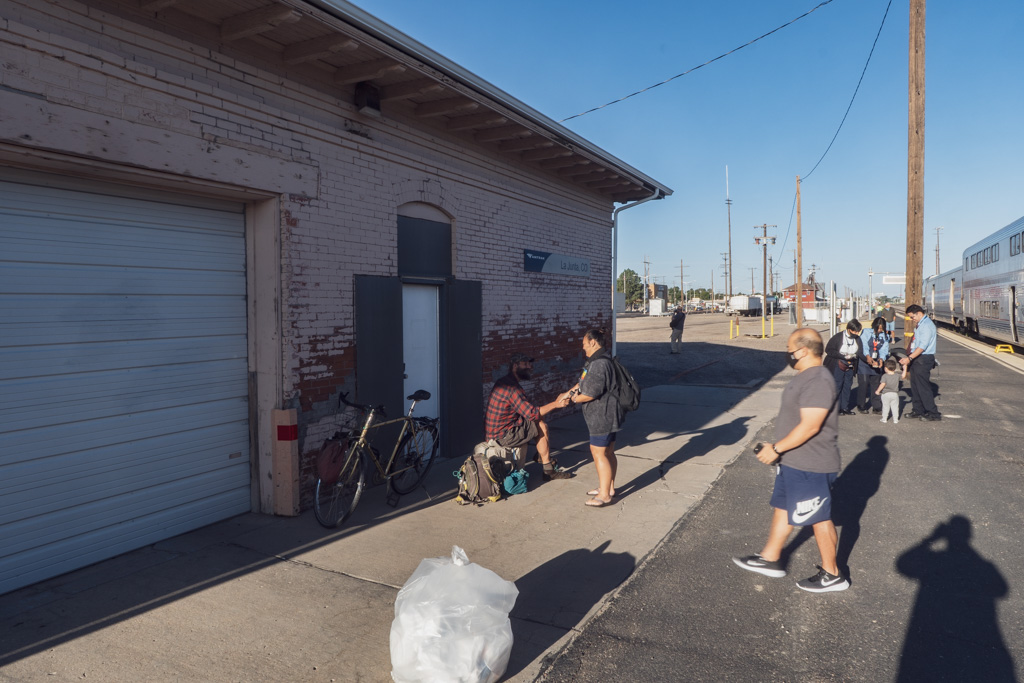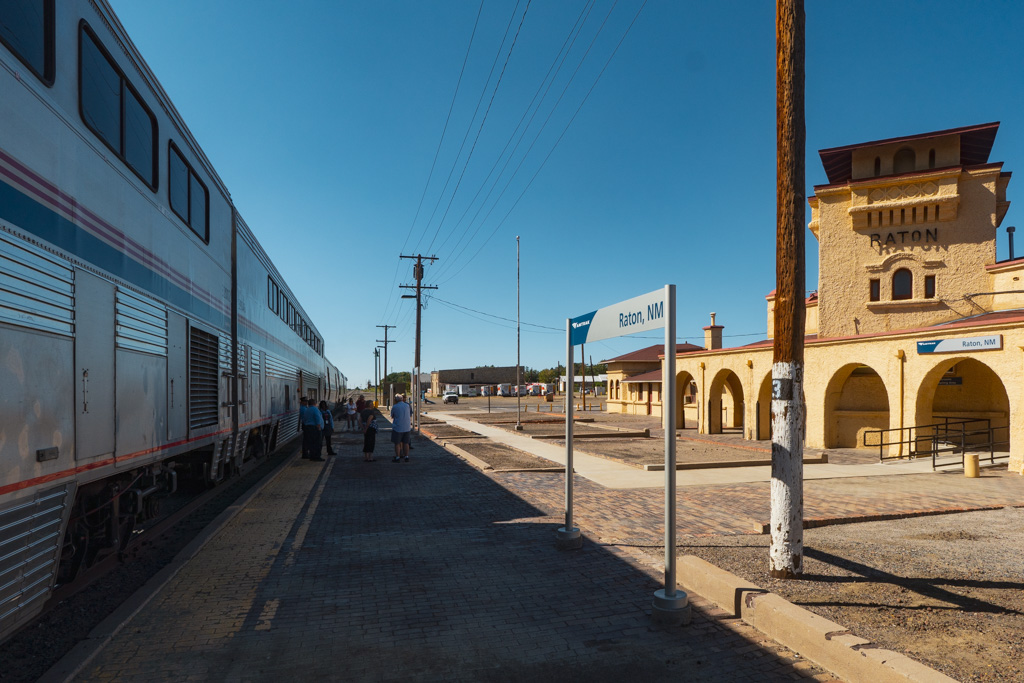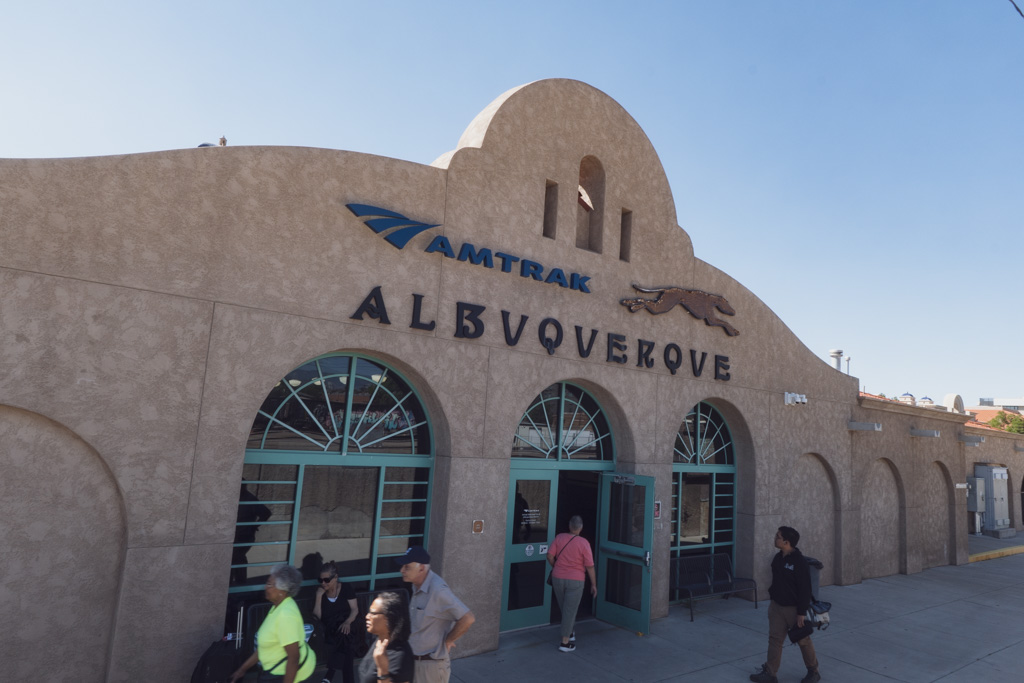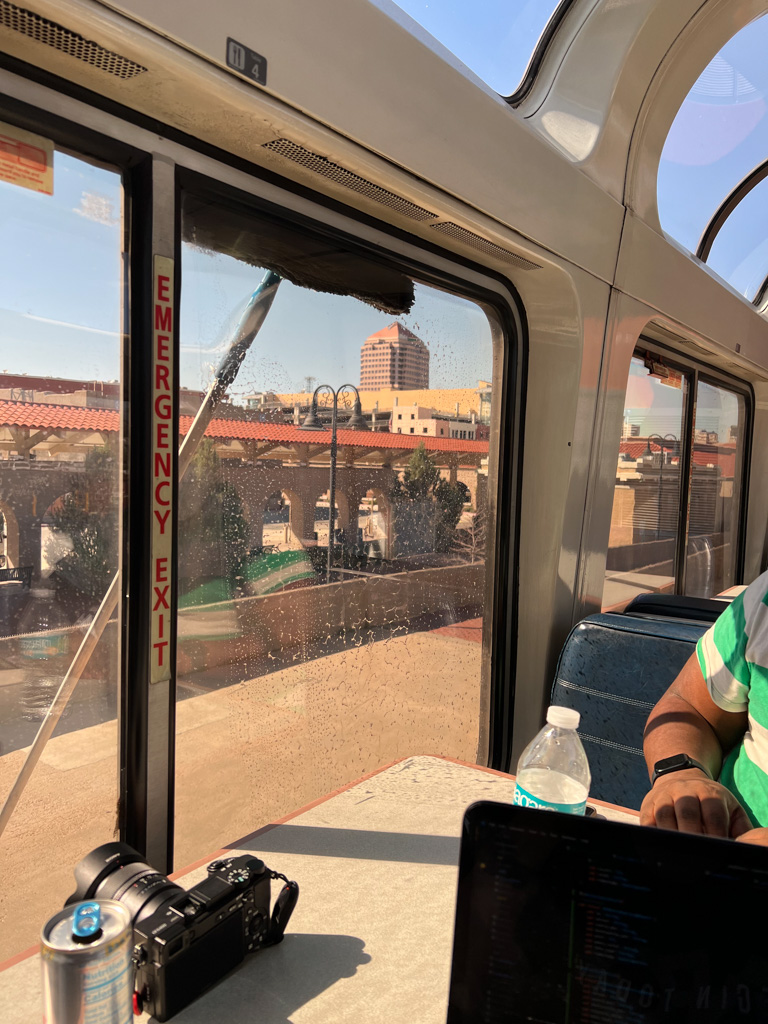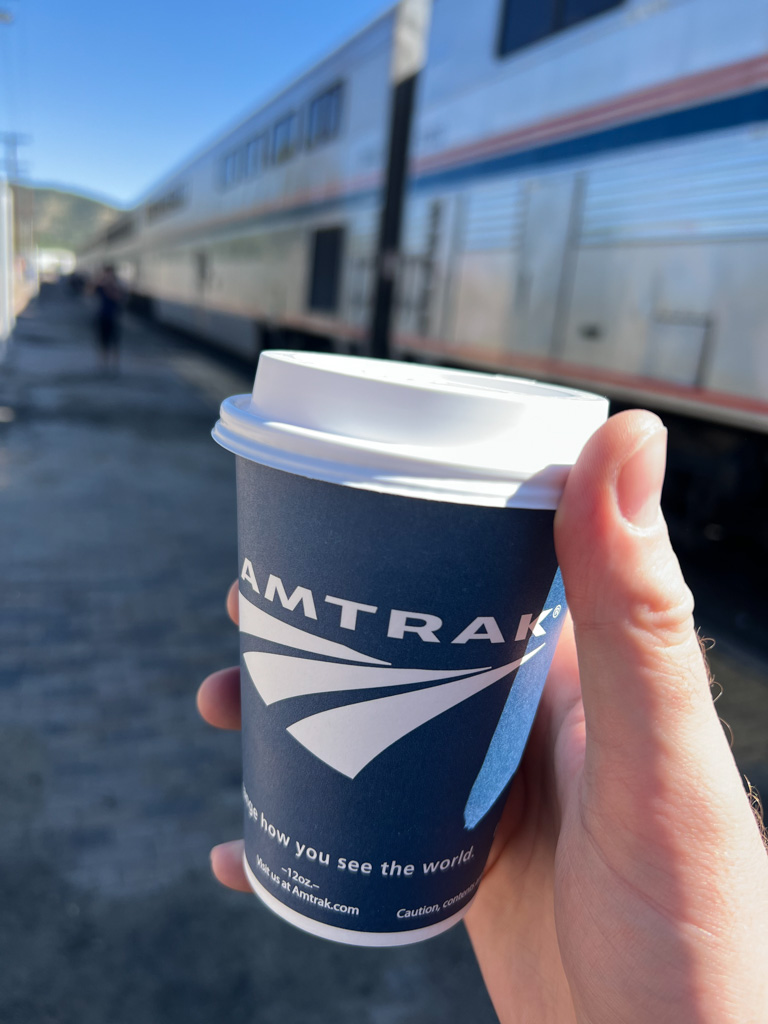 You will have an entire stretch of daylight to see the most interesting sceneries on the westbound Southwest Chief route.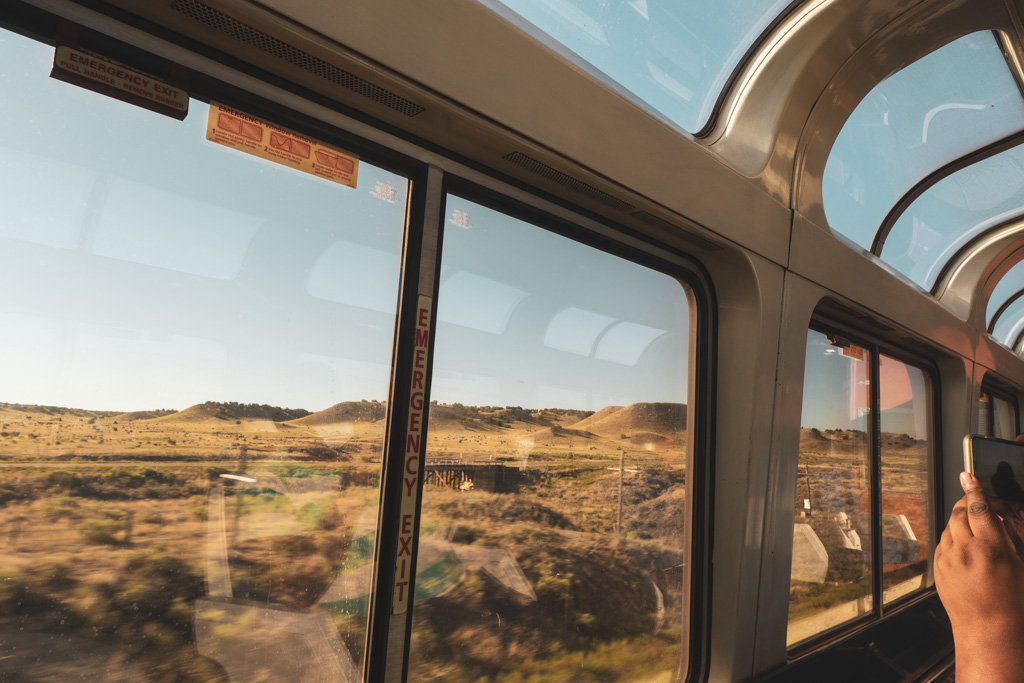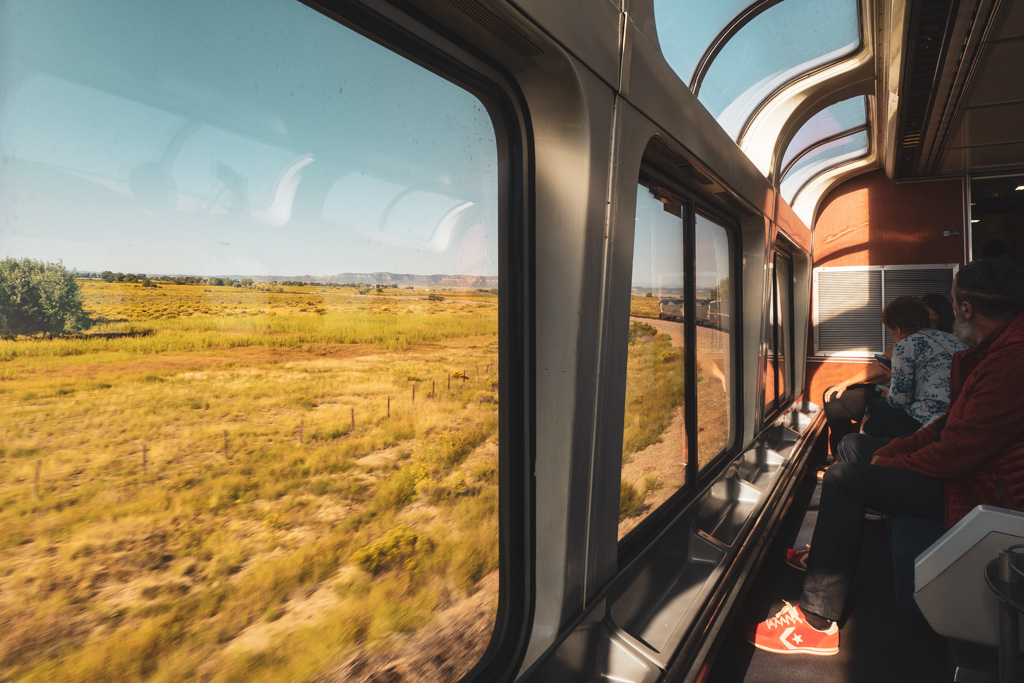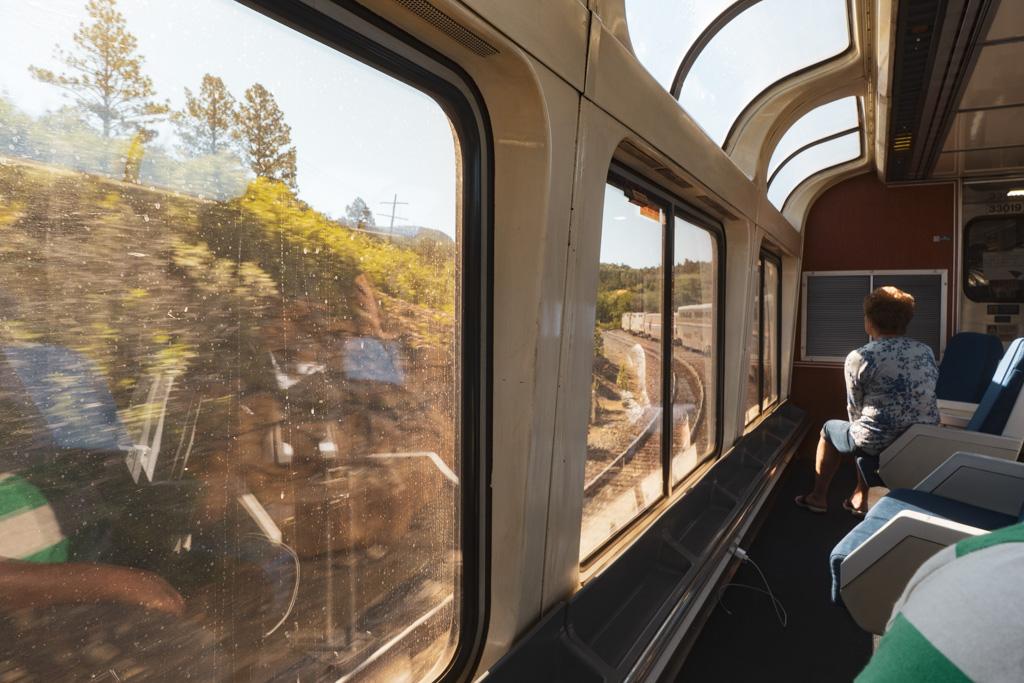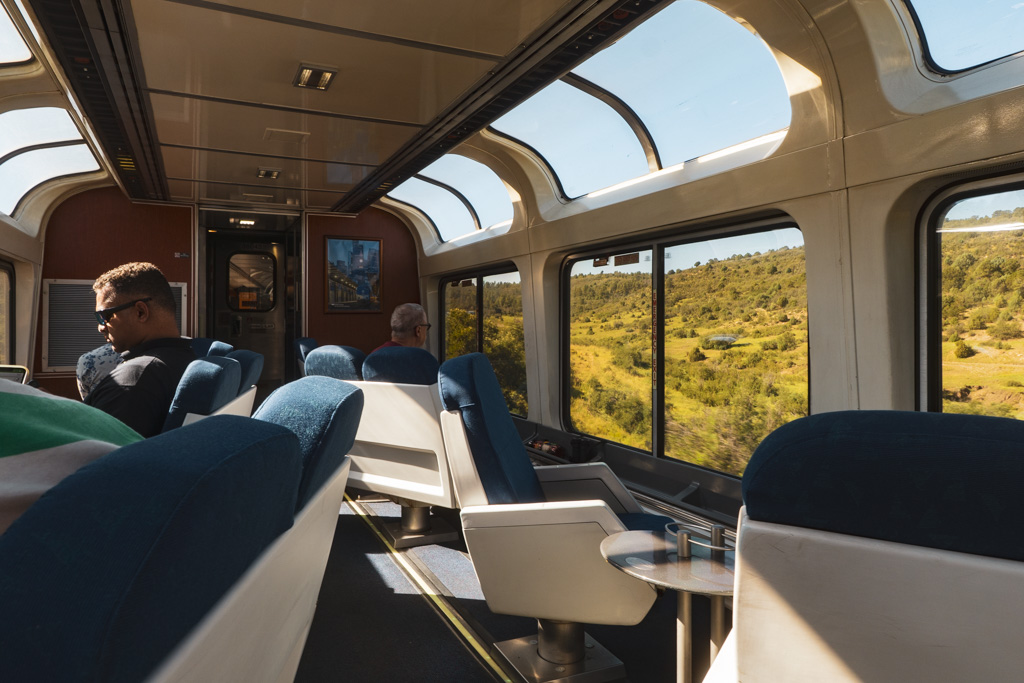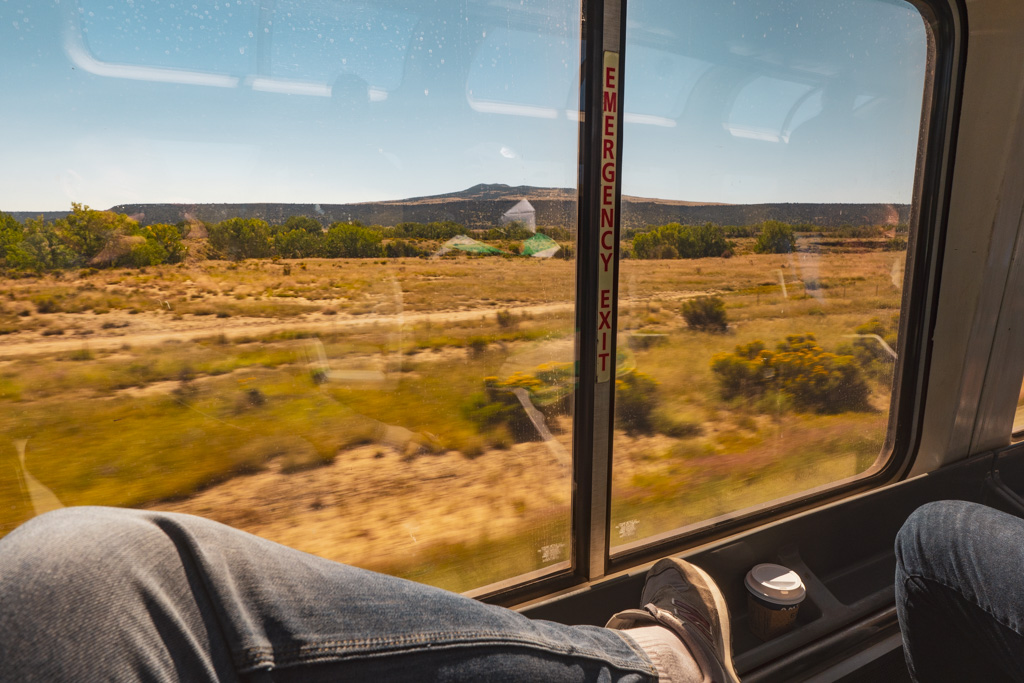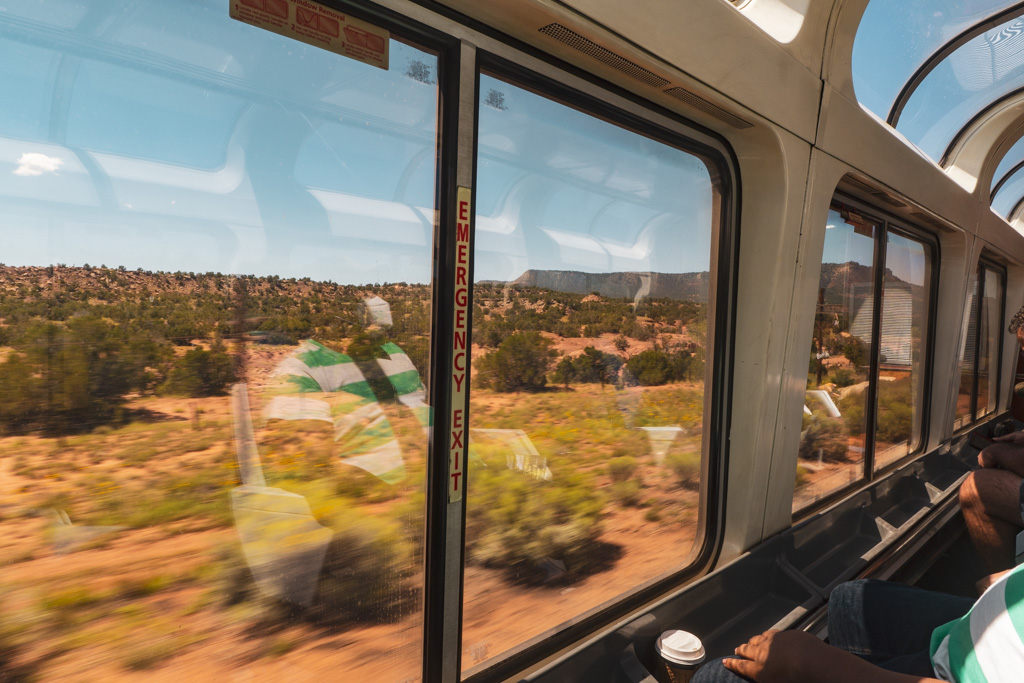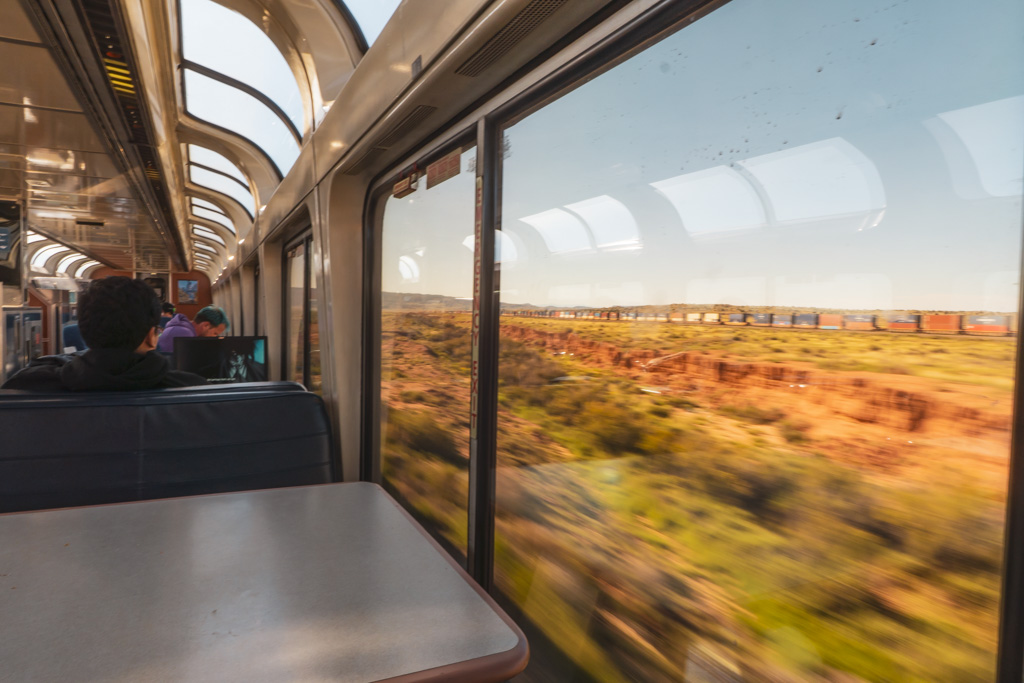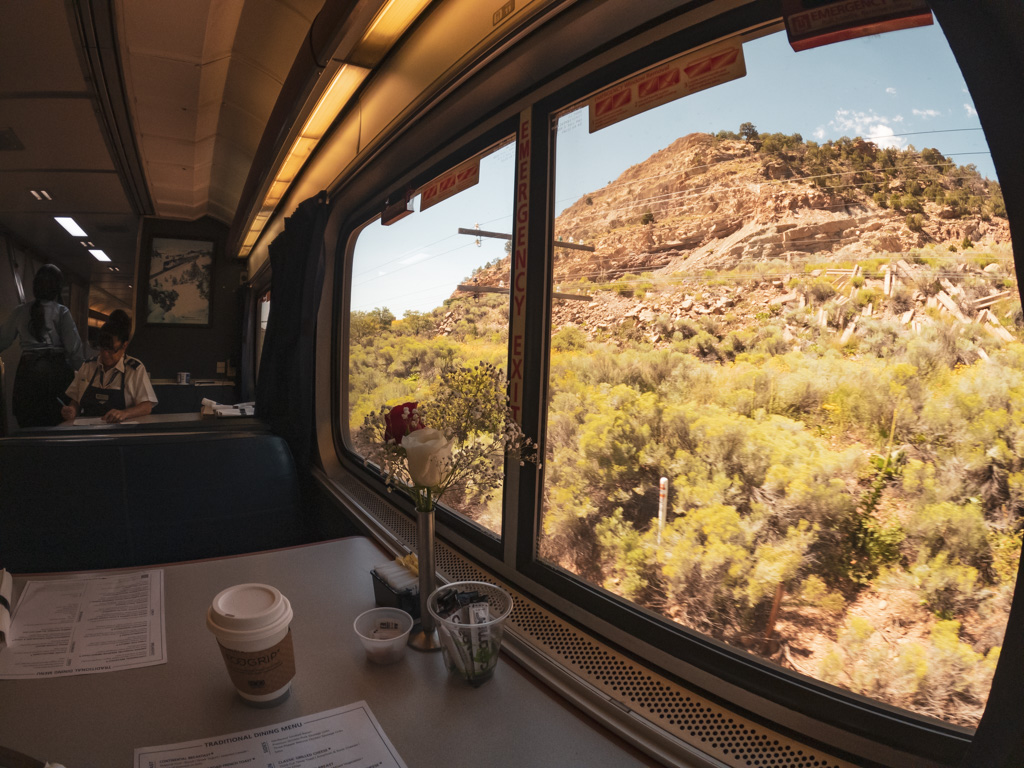 It is an amazing experience to sit down with a drink and watch the ever changing landscapes of Colorado, New Mexico and Arizona pass by in front of you.
For dinner, we closed the place down. The friendly staff had a bottle of wine to empty, and we were there, talking until almost midnight. This was one of my favorite experiences of the entire trip.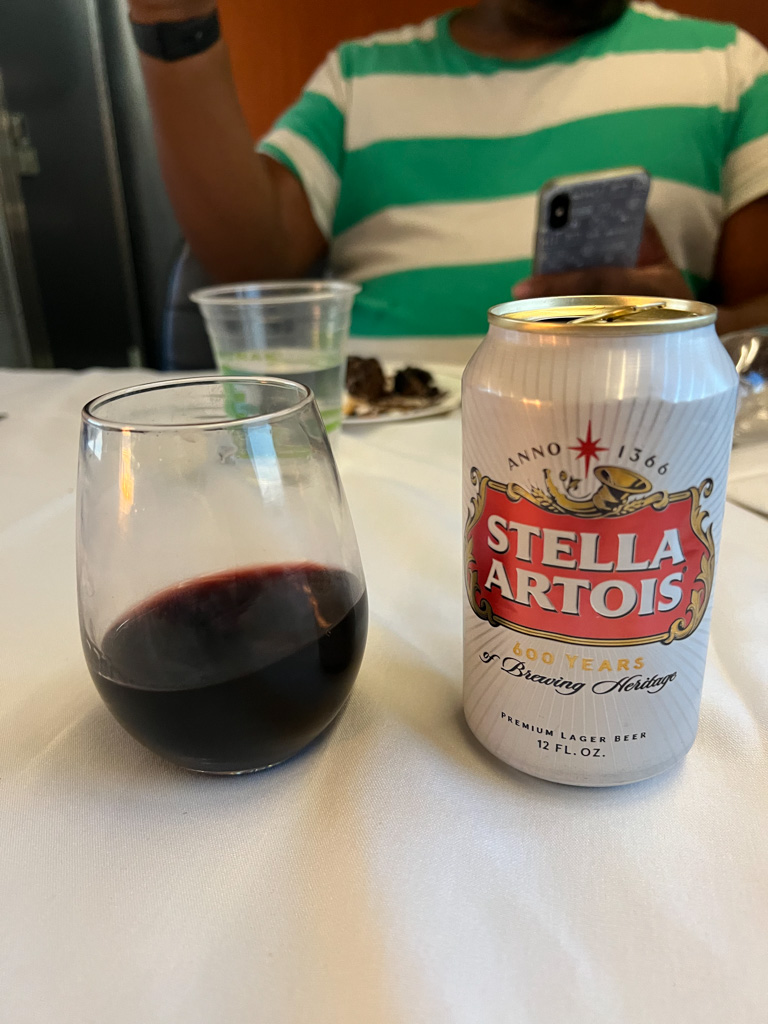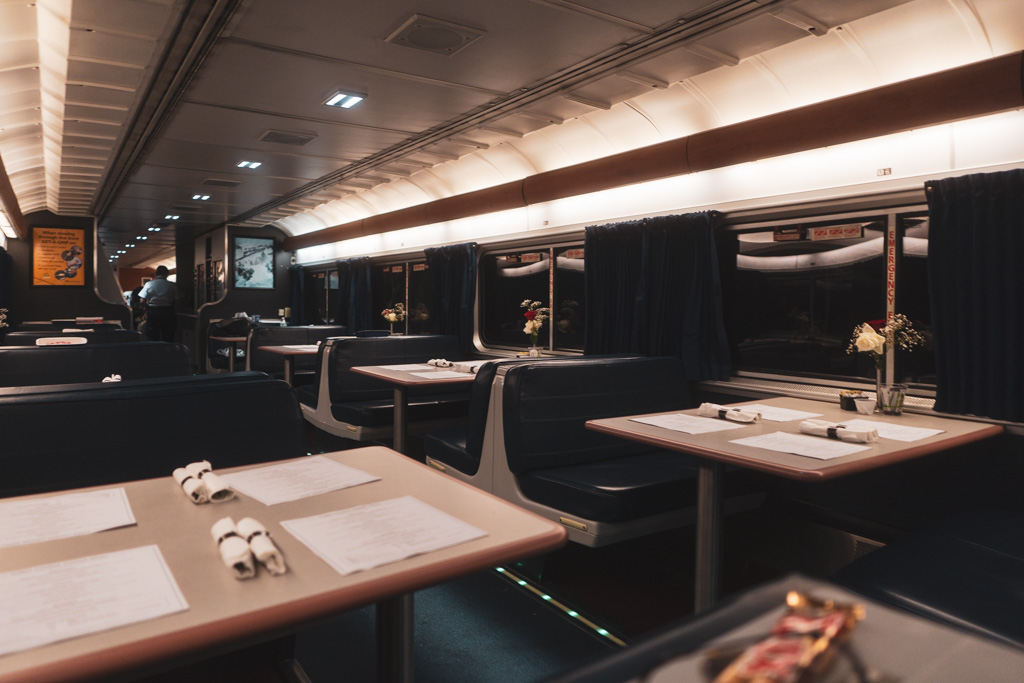 Arriving in Los Angeles
After another good night of sleep, I woke up in California and headed for breakfast around 7am to find a crowded restaurant car. I sat with a large group of travelers connecting to the Coastal Starlight Amtrak train to Seattle. Many boarded in San Bernadino to take the short trip to Los Angeles.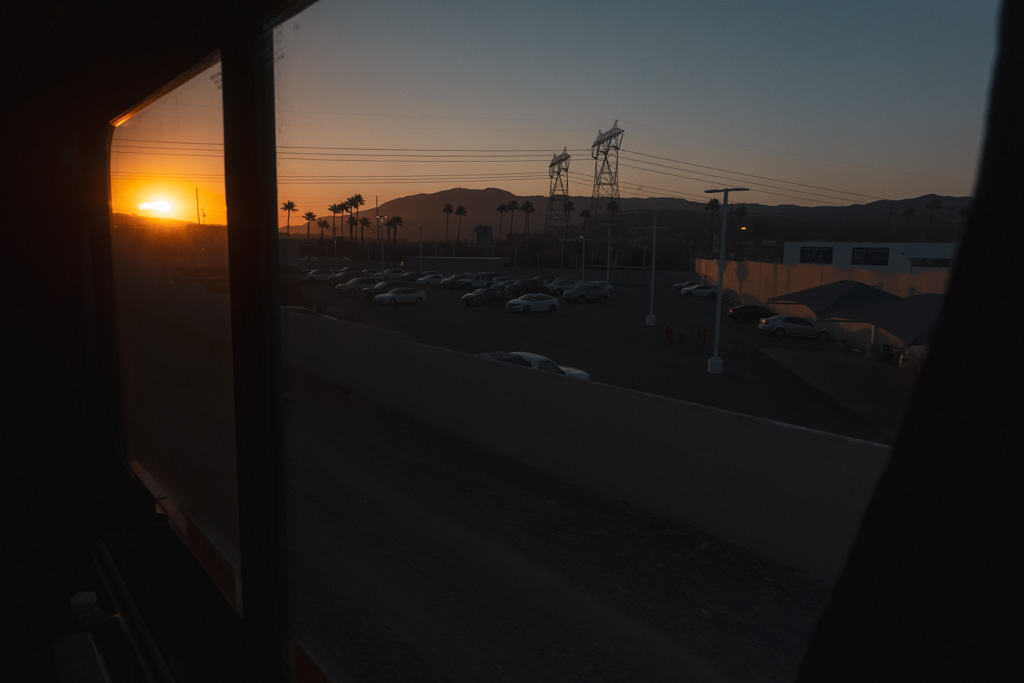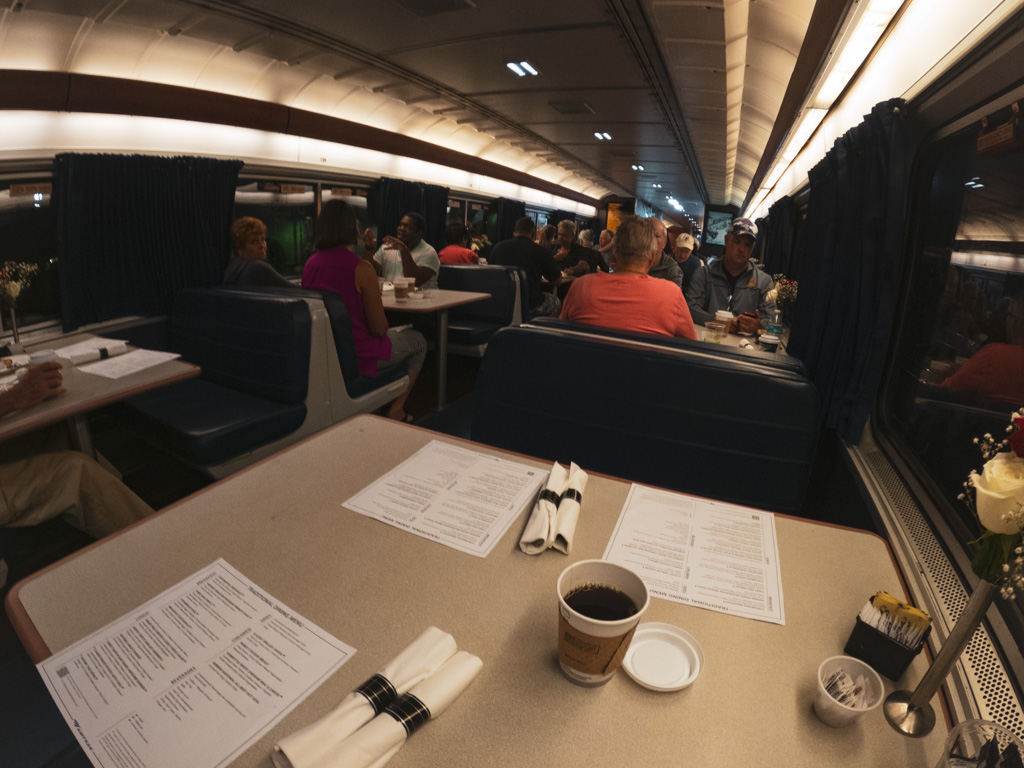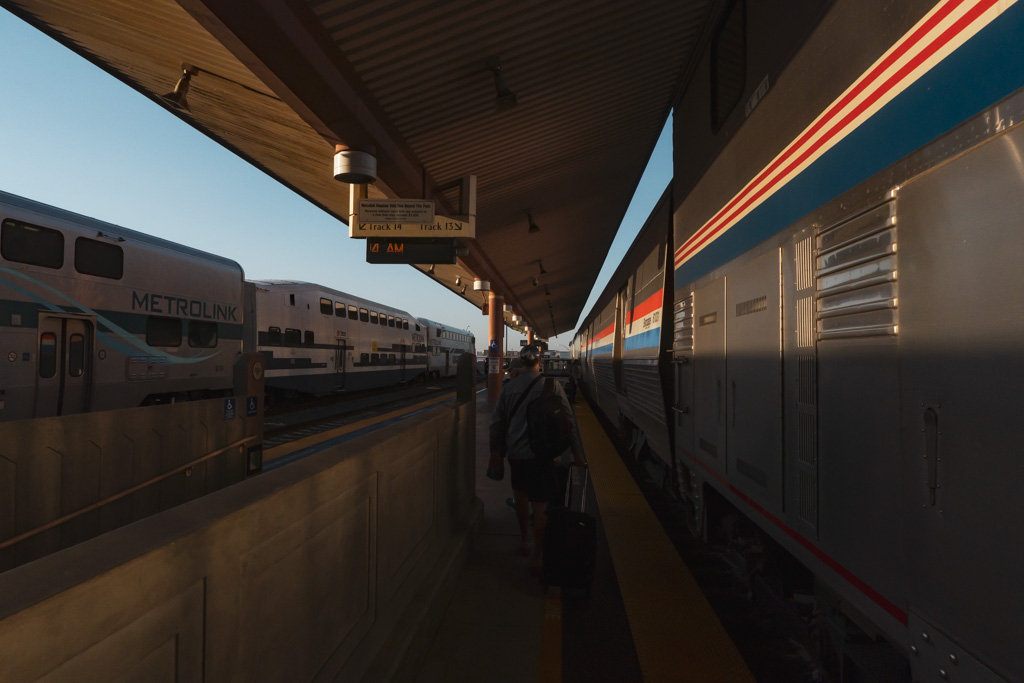 I packed my things and waited for our arrival in Los Angeles. After arriving, I spent some time in the Amtrak Lounge and took a FlyAway shuttle bus from the station to LAX airport. There was no delay, and we were actually a few minutes early, so there was no rush for me to get to the airport. We arrived before 8am, and my flight was not until 6pm. I had chosen a late flight on purpose and was ready to rebook in case of a significant delay of the train.
What's Next?
This trip was great. I was able to completely shut down and find some silence without all the noise and distractions. I cannot think of a single uncomfortable moment along the journey.
I plan to take the California Zephyr to San Francisco or the Empire Builder to Seattle next. A friend even had the idea of going from coast to coast and starting in New York City.
I am encouraging you to explore the Amtrak network yourself and give it a try. It is worth it.